By Sara Newberry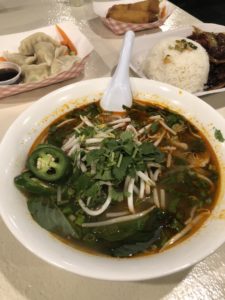 The weather has finally tricked me. After years of warm temperatures from March to the end of October, Dallas has finally welcomed a proper November cold front. Up until last week, I was still running around in T-shirts, enjoying the okra still growing in my garden, and generally enjoying what usually passes for fall. Then, out of nowhere, it got cold. And I don't mean "cold" as in normal Dallas cold, where it's around 50 degrees and everyone complains because it's not 80 anymore. Actual real cold, like "uh, why is it colder in Texas than it is in Toronto" cold.
So, my usual October-November plan of enjoying restaurant patios while I eat fall-inspired dishes has gone out the window and I've had to go straight to my plan B of enjoying sitting inside while I eat warming and delicious soups. It was this switch that inspired me to try Pho Bowl in Deep Ellum.
Walking in, the space is bright and minimal, with glossy wood tables and bright green chairs. If earnest cheerfulness could be captured in decor, it would look like this. Counter service is friendly and helpful when asked about menu options.
The twist in Pho Bowl's menu is that, while it's mostly Vietnamese, there are a few touches of Korean, Thai and Chinese flavors scattered throughout as well. You can find Korean-style short ribs, orange chicken and pad Thai here, as well as Vietnamese favorites like banh mi and shaken beef. The pho on offer is also unusual; while traditional long-simmered broth is available, you can also find a coconut-based curry broth and a sour and spicy tom yum-inspired broth.
The tom yum was recommended and, once I dove in, I could understand why. It has just enough heat to make you sweat a little, but not so much that you're in pain. Under the heat, the broth is tangy, with the flavors of lemongrass and kaffir lime leaves coming through. Tom yum is often prepared with shrimp; we chose our favorite pho ingredient, rare beef, as ours. The tender beef provided a softer flavor that was a nice contrast with the intense broth.
I was excited to see shaken beef on the menu. It's one of my favorite Vietnamese dishes, and is surprisingly hard to find on menus here. This version was pretty great, with a mildly sweet and smoky sauce coating the tender chunks of beef. This is a dish that I will want to order every time I come to Pho Bowl, but I am also looking forward to exploring more of the menu.
Veggie egg rolls were fresh-tasting and not greasy at all; steamed dumplings had delicate skins and flavorful filling.
Pho Bowl has been open since spring of 2016, and it's outlasted other more notorious spots like Amsterdam Falafel and Drugstore Cowboy. Pho Bowl isn't trying to be cool. They're just serving delicious and affordable food that will make people come back.
Pho Bowl
2807 Commerce St
214-749-0377
phobowlinc.com
Open 7 days 11 a.m. to 9 p.m.