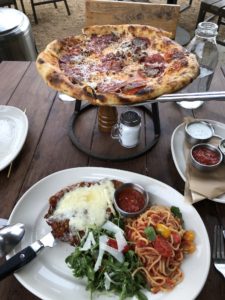 When Mellow Mushroom opened on Henderson, my firm opinion was that the last thing that stretch of road needed was another pizza place. That was, of course, before Pie Tap opened its doors. Mellow Mushroom closed in the summer of 2016, after less than a year. Pie Tap will be around for the duration.
Pie Tap is very proud of their dough-making process, which purportedly takes 96 hours from start to finish. The resulting dough is chewy, crisp and light, with a slight sourdough funk. It's the best pizza crust in the city.
What's on top of the pizza is equally important, and Pie Tap does not disappoint in that area either. My favorite is the Prosciutto, featuring prosciutto, dates, ricotta and arugula. Pistachios and a drizzle of balsamic tie it all together. It is the most adventurous pizza on the menu, but the more familiar combinations are also well-thought-out. A margherita pizza is so simple (just tomatoes, cheese and basil) that the ingredients must be high quality to make a memorable pizza, and Pie Tap's version absolutely is, with housemade mozzarella and an intensely flavorful tomato sauce. Pie Tap's version of the meat lover's, the Salami pizza, is topped with a variety of meats — salami, pepperoni, bacon and housemade Italian sausage — but is it thoughtfully built so the different meats don't overpower each other. Calabrian chiles heat it up while a chewy layer of mozzarella rounds it out.
Pie Tap offers non-pizza items as well, though I don't know why you'd choose anything other than a pizza. A chicken parm was fine but putting the tomato sauce on the side made for awkward eating (trying to cut small enough pieces to fit in the sauce bowl led to me just dumping it out on my plate). It also kind of highlighted the fact that the chicken on its own was dry. A side of house made spaghetti had lovely texture but was under seasoned.
Appetizers run the gamut from not-to-be-missed to only-if-you're-craving-it. Hummus and vegetables were fine, but definitely seemed like an afterthought. Speidini (skewers of fontina wrapped in prosciutto) were tasty, but the salad served with them had zero seasoning.
Chicken meatballs were my favorite starter; they were served on a bed of tomato sauce with crostini on the side. Order more than one for the table; you won't want to share.
I've never met a doughnut I didn't like, so I couldn't resist ordering them from the small dessert menu. They're kind of a cross in flavor between a sopapilla and zeppole. The serving was ridiculous — they are huge, like double-size doughnut holes. We couldn't finish them. The local honey and dark chocolate sauce on the side were worth drinking straight. Unfortunately, a couple of mine were still raw in the center, but again, there were so many that I wasn't too put out about it.
I generally don't crave pizza — not like I crave a good cheeseburger or tacos al pastor — but I have found myself craving the pizza from Pie Tap. Whatever they are doing there, I hope they keep it up for a long time.
Pie Tap
2708 North Henderson
Dallas, Texas 75206
972-432-7800
pie-tap.com
Monday – Thursday:
11:30 a.m. – 11 p.m.
Friday: 11:30 a.m.– 12 a.m.
Saturday: 10 a.m. – 1 a.m.
Sunday: 10 a.m. – 11 p.m.