By Juliette Coulter
Sharing stories about personal issues is tough, yet two NFL football greats, Dak Prescott of the Dallas Cowboys and Solomon Thomas of the New York Jets (both pictured), who are tough on the gridiron, told their stories at Grant Halliburton Foundation's 14th annual Beacon of Hope Community Luncheon. The fundraising luncheon, held on March 7 at the Omni Dallas Hotel, supports Grant Halliburton Foundation's work providing education, resources and support for children, teen and young adult mental health and suicide prevention in North Texas. Both young men are on a mission to raise awareness about mental health and suicide through their foundations off the field.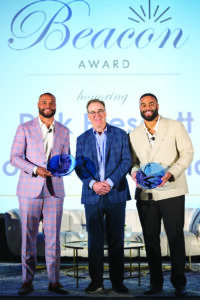 Vanita Halliburton, Grant Halliburton Foundation (GHF) co-founder and executive chairwoman, spoke about the organization she co-founded after losing her son Grant to suicide 17 years ago and the state of mental health in young people. "The Centers for Disease Control reports that: 
• Suicide is still the second-leading cause of death for youth ages 10 to 14 and the third-leading cause of death for those ages 15 to 24.
• One in eight Texas high school students report they have attempted suicide in the past 12 months (that's twice the national average).
• In Texas, on average we lose one teen to suicide every day; in the Dallas-Fort Worth metroplex, we lose two per week." She added, "GHF was meant to be a wellspring of information, guidance, resources and encouragement for those engaged in the fight for someone's mental health — for themselves or for someone they care about."
CBS 11 Sports Anchor and Children's Rights Activist Andy Adler introduced and interviewed Prescott and Thomas. She remarked: "Dak and Solomon have many gifts — talent, intelligence and success. They've also both suffered great loss and with that comes a platform to communicate about mental health and suicide prevention."
Prescott has shared openly about his own mental health challenges. He established the Faith Fight Finish Foundation as a tribute to his mom, Peggy, who lost her battle with colon cancer in 2013, and its work also honors his brother, Jace, who died by suicide in 2020.
Similarly, Thomas (a Dallas native) lost his sister, Ella, to suicide in 2018 and has spoken openly to his teammates, other players and the public. He co-founded The Defensive Line with his parents, Martha and Chris Thomas, and the organization focuses on mental health and suicide prevention. Off the field, Solomon has dedicated his life to sharing Ella's story.
The overall message from both men is that their faith is what keeps them going. The Beacon Award was given to both men for their leadership on and off the field to raise awareness about mental health and suicide prevention.