By Chic DiCiccio
Some horror movies, like the current hit "It Chapter Two," want nothing more than to scare the water out of you. Those movies can end up uneven with lots of hits and misses. When horror movies throw in some dark comedy or social commentary, they can transcend the slasher genre and become an actual well-rounded movie.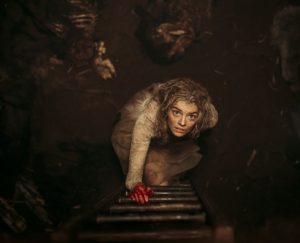 "Ready or Not" pulls off the trifecta, albeit in a not very subtle manner. It's got enough scares to keep horror fans happy, but where it excels is in its darkly funny take on the rich and marriage. It's creepy, smart and, in moments, downright hilarious. 
It opens in a very auspicious manner as a man frantically runs from members of the Le Domas family in their Victorian era looking mansion. The man's demise is assured but remains in mystery as we move forward 30 years to present day, which happens to be the wedding day of Grace (Samara Weaving) and Alex Le Domas (Mark O'Brien). 
The Le Domas family's considerable fortune comes from parlor games, and to honor that legacy, the entire family plays a random game to essentially initiate their new in-laws. 
The family patriarch, Tony (Henry Czerny), explains the tradition, and Grace's randomly chosen game turns out to, ominously, be Hide and Seek.
It doesn't take a genius to realize where this is going, and the next hour of "Ready or Not" is a deadly cat-and-mouse game that pits Grace against the pompous buffoons of the Le Domas family. It's easy to despise some of the family, particularly Alex's sister Emilie (Melanie Scrofano), who is the epitome of spoiled rich kid. The matriarch, Becky (Andie MacDowell), and Alex's older brother, Daniel (Adam Brody), seem on the fence about the whole thing, and their loyalties waver a bit more than the others. 
If "Ready or Not" does falter, it's in its delivery. Directors Matt Bettinelli-Olpin and Tyler Gillett do an impressive amount of direction and production with a tiny budget (only $6 million), but the message in Guy Busick and Christopher Murphy's script is delivered with a cinematic jackhammer. By the time Grace profanely dismisses the wealthy, it's clear that they don't believe an audience is able to think for themselves. 
While the script and direction are top notch, "Ready or Not" is absolutely held together by Samara Weaving's incredibly delicious performance. This is a star-making role, and Weaving keeps the preposterous premise grounded in pseudo-reality. She doesn't turn into Rambo, and once she's armed to the teeth, she manages to allude to the insanity with just a look in the mirror. There's no doubt that many more moviegoers will be seeing her quite soon. 
Henry Czerny's underrated career as white collar villains continues here, and he even gets a few hilariously gonzo moments. Andie MacDowell's career even helps with this role, as she normally plays sweet and kind to perfection, and she gets to play completely against type. The year 2019 continues to be Adam Brody's somewhat of a comeback as he scores the juiciest, most layered part this side of Weaving's. 
"Ready or Not" has been out for a few weeks and considering the dearth of quality new releases (for God's sake, skip the exhausting beatdown of "The Goldfinch"), it's a good time to maybe check out what you may have missed. This is an under the radar sleeper hit that is destined to be a cult classic so you could get in ahead of the curve.