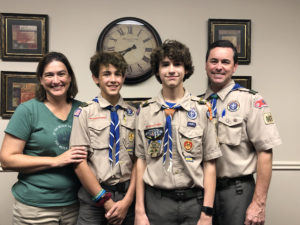 By Gigi Ekstrom
For anyone involved in Boy Scouts, the pinnacle of achievement is to be awarded the rank of Eagle Scout. It requires motivation, perseverance and discipline to earn the many required merit badges and completion of a major community service project. Less than seven percent of eligible Scouts obtain this high honor. Lakehill Preparatory School is proud to recognize sophomore Blake Perry from Troop 861, who recently achieved the rank of Eagle Scout.
As part of his path to Eagle Scout, Perry planned and executed a service project benefiting refugee children. He collected donations of children's clothing, shoes and school supplies. He set up donation boxes at his church, Wilshire Baptist, and presented his project to the entire congregation during a Sunday service. 
He also encouraged family and friends to collect as well. "I wanted to do something to help refugees," Perry said. "This project will have a positive impact on the children who need it the most."
With the help of 20 other Scouts in his troop, Perry boxed up more than $12,000 worth of supplies. He and his family rented a U-Haul trailer to transport the items to San Antonio, where they were donated to Catholic Charities, to be distributed to refugee children at the border. 
"I was absolutely surprised at how much we collected," said Perry. On his way to Eagle Scout, Perry earned 28 merit badges (23 are required) and held the leadership positions of scribe, historian and assistant patrol leader, in addition to completing his project. 
"It is a process that takes hard work, but it is so worth it in the end," said Perry. "It brought together so many meaningful experiences. I think it is one of the best things you can do."
The Court of Honor for Perry will be held on Dec. 9. Congratulations to an outstanding young man on receiving Scouting's highest honor.