3/4 cup vegetable oil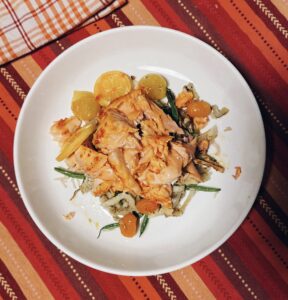 1/2 cup harissa
2 garlic cloves, grated
2 lemons
4 (6- to 8 ounce) salmon filets
Salt and pepper
Heat oven to 275F.
Line a baking sheet with parchment or foil. In a small bowl, whisk together oil, harissa, garlic, and juice of 1 lemon. 
Thinly slice second lemons and arrange on prepared baking sheet. Place salmon filets on top of lemon slices. Spoon harissa mixture over each filet. 
Bake until salmon is mostly opaque and flakes easily with a fork, about 20 minutes. Serve with roasted lemons alongside.