By Shari Goldstein Stern
On a 96-degree Dallas summer night, a unique dinner menu and equally offbeat show under one roof can't be beat. In the case of "Greater Tuna" (GT), Pocket Sandwich Theatre (PST), is a cool combination, rhetorically and literally.
Jaston Williams, Joe Sears and Ed Howard put their comic heads together to come up with the satirical, sometimes slapstick, always quirky, award-winning play that takes place in the third smallest town in Texas, Greater Tuna. Neighbors in Tuna describe the Lion's Club as too liberal and Patsy Cline as immortal. Like so many other things weird, GT originated in Austin. It was a party skit based on a political cartoon in 1981, when it was transformed into the acclaimed, two-person play by its creators. 
An eclectic assortment of Tuna citizens takes on a satirical look at life in rural America. Each actor plays multiple characters, all colorful stereotypes of a small, East Texas town. "A Tuna Christmas," "Tuna Does Vegas," and "Red, White and Tuna" complete the franchise of send ups of iconic Texas lore. 
Dallas actors Tony Martin and Nick Haley knock performances of 20 eccentric citizens out of the high school's football field at PST. That would be the same high school whose drama department didn't have the budget for its spring musical "My Fair Lady" costumes, so they used costumes from last year's musical, "South Pacific."
Martin's is a familiar face in Dallas theater. He's been seen in several productions at Pocket Sandwich Theatre, along with countless credits at WaterTower, Lyric Stage, Plano Rep, Theatre Two and Irving Arts Center. Among several Uptown Players credits, he performed beside B.J. Cleveland as co-host of "Broadway Our Way" in 2009 and was featured in the show's 2006-2008 productions. He knocked this patron out of her seat with his performance of Esteban in Uptown's "Kiss of the Spider Woman," one of Uptown's best. He has also performed in "A Tree Grows in Brooklyn," "Little Shop of Horrors," "Shear Madness" and Pegasus' "Deadline," to name only a few more credits.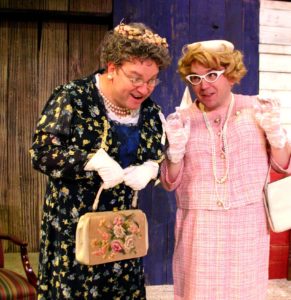 The busy actor said it took a few weeks to get most of the dialogue memorized. After all, he plays 10 entirely unique characters and one voice-over. "Most actors work full time and then some, and still manage to find the time to memorize a 50-plus page script. 
"Plus, having an actress for a wife helps," he explained. Martin is married to popular Dallas actress Sara Shelby-Martin, who has also appeared at PST, along with Uptown Players, WaterTower, Garland Summer Musicals and many other area theaters. Martin's day job is with Scott Jackson at Compass Real Estate in Lakewood. 
Quick-change artist Lauren Ashley Hearn has a team of angels backstage who work magic between the total 21 characters Martin and Haley portray. Martin said: "As well-prepared as you might think you'll be, at some point in all of those 18-30 second changes you are going to forget which character you are changing into, or the opening line of that character, or the order of that character's appearance, or which side of the stage you enter from, or what you have to do the moment you're on stage, or which prop or costume piece needs attention, or do you have your wig on straight, or any number of other little details that need attention. The team keeps the two of us literally moving through it all. It would be so much harder to navigate through Tuna without them."
When the Reverend Spikes, one of Martin's multiple personalities, delivers a eulogy, which is an entire string of metaphor and similes, the audience howls. But those guffaws are second to what Pearl Burras brings. She is beyond description. She's a must-see. Pearl's worth the price of admission! But so is Bertha Bumiller. Martin said, "Personally I like Bertha, because there's more than a hint of my mom in it, including both her strengths and weaknesses." It's too hard to decide which of Martin's alter egos is most endearing. He's convincing in delivering the idiosyncrasies of both women, along with his others. 
As Aries Struvie, the co-radio personality, Haley is simply a hoot. His range is up to the test when portraying Charlene Bumiller, Jody Bumiller, Stanley Bumiller and six other hilarious Greater Tuna neighbors. 
When asked about the show's challenges, Haley said, "With 'Greater Tuna,' the 10 characters we each play range from a rescue dog, a pastor, boys, girls and more, to populate the town of Tuna. So, while lines are fundamentally part of any actors' job, usually we only play one character in a show."
Regarding his favorite character, Haley said: "I'd have to say I really enjoy Stanley. He's a natural-born idiot that, at first blush, maybe you can like. But that changes pretty quickly. I enjoy the audience reaction when that change inevitably occurs."
"Tony Martin's character work is something I aspire to be able to achieve," Haley added. "I was ecstatic when I found out he was cast. During rehearsals, I'd often find myself watching his work instead of being in the scene with him." Haley has appeared at PST for about 15 years, including off-stage stints. 
"Greater Tuna" continues through Sept. 21 at Pocket Sandwich Theatre, 5400 E. Mockingbird Ln. in Dallas across from Mockingbird Station. For tickets, call 214-821-1860 or visit Pocketsandwich.com.