From Dallas ISD Staff Reports
When active PTA mom Jamie Nelson (pictured) learned there was a vacant theater teacher position at Sidney Lanier Expressive Arts Vanguard, where her two sons attend, she immediately told the principal she was stepping in. 
Starting in the late fall of 2019 as a volunteer, Nelson finalized her alternative teaching certification over winter break and was officially hired in January 2020, putting to good use her bachelor's in drama and MFA in sound design as Lanier's theater teacher.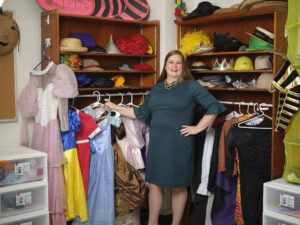 In addition to a nontraditional start, Nelson's first year of teaching has been unconventional, to say the least. Just a couple of months into the job, Dallas ISD had to switch to virtual learning due to the threat of COVID-19. 
Lucky for her students, Nelson wasn't intimidated by the challenges of teaching theater in the midst of a pandemic. Her classes are now learning video editing skills and how to communicate effectively through video. 
"They are learning so much about computers and where technology and art intersect," said Nelson. 
Nelson is passionate about her craft and wants her students to be as creative as possible. She even makes her class pinky promise over Zoom to not turn in any "boring" assignments.
"Limited resources are not an obstacle," said Nelson. "We talk to the kids and we come up with a solution, and if that doesn't work, we try something new."
Virtual performances have been one of the most exciting ways Nelson has engaged her students in theater; her students performed "A Christmas Carol" last semester over Zoom.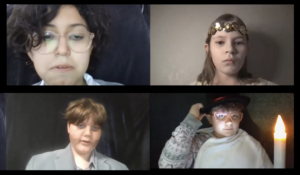 Students performed in real-time, complete with costumes, makeup, a black backdrop, sound effects, and entrances and exits. This experience gave her students the same rush as an in-person performance, and they shared their experiences through video journals immediately following the show.
In honor of Black History Month, her students are currently working on putting together video projects featuring poems from Black authors. 
The Sidney Lanier community is enjoying big improvements to the campus thanks to the 2015 Bond, including two art rooms with an outdoor kiln, a new dance studio, a new piano lab, and a new orchestra room.
For the theater department, these bond improvements include a new sound system and light board, making it a fantastic program for both student performers and technical theater students as well.
Last month, Nelson celebrated her first anniversary of officially teaching at Sidney Lanier. 
"It's an explosion of student art here, it's amazing," she said. "All the sights and sounds, it's so inspiring and full of joy all the time."