By Amity Thomas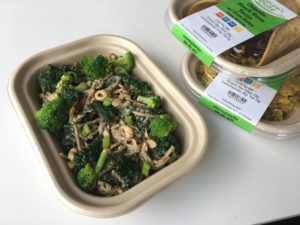 Nature's Plate, the local go-to vegan eatery based on sustainable, plant-based meals is addressing the current challenges with plastic and making its largest step yet into sustainable packaging for the grab and go concept.
In conjunction with the launch of new summer offerings, compostable containers will begin to replace the current recyclables. New menu offerings including soba noodles with kale and peanut sauce, orzo stuffed bell peppers, Wasabi peanut and quinoa salad and blueberry apple crisp will be among the menu items making the transition to sustainable containers.
"This has been a long time in the works for Nature's Plate," says co-founder Annette Baker, who along with her sister, Marianne Lacko, founded the eatery in 2015. "We've been using recyclable containers for many of our offerings as well as taking additional steps to preserve our planet by composting and recycling. The current lack of market for plastic recyclables has increased that urgency."
Nature's Plate started as a small business venture in 2011 and quickly expanded to a storefront and kitchen in East Dallas offering meals, snacks and desserts to-go and weekly meal plans.
For more information, call 469-515-2474.