By Jacqui Nickell
The Lakehill Bionicles First Tech Challenge Robotics team has been working diligently all year despite the constraints of social distancing. The team started off strong in the summer by joining a group called Project Worldwide. The purpose of the group was to share STEM ideas with students around the world. The team also continued their Lower School STEM experiments and Weekly STEM Hero series highlighting a diverse set of innovators in science, technology, engineering and math. Be sure to follow the Bionicles on social media (@ftc14904 on Instagram, Twitter and Facebook) to learn about these exciting projects!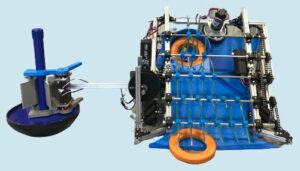 This year's game is called Ultimate Goal. It involves a field with two "Tower Goals," four moveable goals called "Wobble Goals," and two sets of "Power Shots," which are reminiscent of a milk bottle game at the fair. The robot must intake and shoot orange, donut-shaped rings at these targets to score points. Upon return to school the team started by breaking down the tasks the robot would need to complete, prototyping possible solutions using the CAD software Fusion 360, and making the team's vision a reality. Most importantly, the team determined this year's robot's name: Vhisola, after the character in the Lego "Bionicles" series.
Because of the pandemic, this year's competition is virtual. On Saturday, March 6 the team met at school for the competition kickoff hosted by Aledo High School. They met judges virtually to explain their vision for the robot and its functionality. Now, the team will have a week to submit completed matches through a cloud-based scoring system. On Saturday, March 13, the team will learn the results of the competition.
This year's team consists of seniors Sarah Smith, Max Link and Cade Armstrong; juniors Page Howland, Blake Perry, Sumner Born, Indi Esneault and Will Gorman; sophomores Anna Knickel, Ma'Ki Shaw and Millie Castoldi; and freshmen Nick Blanchard and Max Byrd.