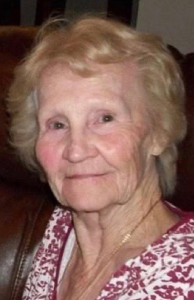 Allyne Frances (Ford) Cheek passed away on February 19 at the age of 92.
She was born in Galena, Kansas in 1926 to parents Alfred "Red" Hob Ford and Iva Keyes Ford. She was preceded in death by her parents; by brother Jack Richard Ford; by sisters Marjorie Merrill Watkins, Fern Morey and Rayma Jean Ford; and by husbands Wallace Bryce Martin and Thomas Keyhill Cheek.
She is survived by her brother Bill Eugene Ford of Oak Creek, WI.; by sisters Iva Louise Sharp of Colorado Springs and Helen Nadine Hudson of Pryor, Okla.; by her daughter Judy Louise Parks; and by her sons Wallace Bryce Martin Jr., Johnny Lowell Paulson, Thomas Lewis Cheek and Timothy Mark Cheek; as well as by 16 grandchildren, 14 great-grandchildren and three great-great-grandsons.
Known to some friends as "Ally," and to some family endearingly as "Sissy," "Sis" and "Aunt Sis," Allyne was a model member of the Greatest Generation, a devoted wife, mother and grandmother. For years, she was a member of St. Pius X parish in Dallas and was happy doing volunteer work at the church. Her greatest passion was her family, and she loved devoting herself 100  percent to work as a stay-at-home mom and housewife. However, when her youngest child left for college in 1976, she decided to do the same, enrolling in an interior decorating class at Eastfield College, and excelling in the course. At about the same time, she entered the job market, working at Angels, Inc. (now Dallas Center, Inc.), a school for children with developmental disabilities, shining as the school's cook until her retirement in 1988. 
She was twice widowed. Her first husband, Wallace Bryce Martin, died in 1944 while serving our country in World War II; and her second husband, Thomas Keyhill Cheek, passed away in 1980 after 28 years of marriage. More than a survivor, she embraced life, devoting herself to her family, enjoying gardening and working crossword puzzles, and enjoying her many good friends, either at bingo, bowling with the Buzzards, socializing at VFW Post 6796, or visiting at each other's homes. 
She touched many lives with her love, wisdom, personality, and example, and she is dearly missed.
Visitation is at González Funeral Home and Crematory, 3050 N Stemmons Fwy., Dallas, TX 75247, on Friday, Feb. 22 from 4-8 p.m. 
The service is at 9:30 a.m. on Saturday, Feb. 23, also at González Funeral Home, followed by the burial at Calvary Hill Cemetery, 3235 Lombardy Ln., Dallas, TX 75220. 
In lieu of flowers, donations can be sent to the Alzheimer's Association, alz.org, or to the Dallas Center, Inc., at dallascenter.org/donate.