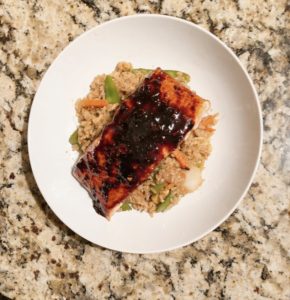 1 pound skin-on salmon fillets
Glaze: 
3 garlic cloves, minced
1/4 cup tamarind concentrate (Indian-style)
2 teaspoons liquid aminos or soy sauce
2 tablespoons light brown sugar
1 teaspoon sriracha, or to taste
Salt and pepper
Chopped cilantro, for garnish (optional)
Line a baking pan with foil or parchment. Place salmon on prepared pan. 
In a small skillet, combine glaze ingredients, stirring just until sugar dissolves and mixture begins to bubble. Season with salt and pepper. Spoon glaze over salmon and refrigerate while oven heats. 
Heat oven to 400F. When hot, bake salmon just until cooked through, about 10 minutes. Sprinkle with cilantro, if using, and serve.