By Rosanne Lewis
Dallas CASA (Court Appointed Special Advocates) needs more male volunteers to protect and advocate for child victims of abuse and neglect. Advocates work with the child welfare and court system to ensure children do not fall through the cracks and receive the protection and support they need while in the protective care of the state.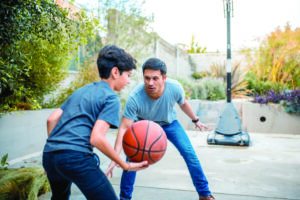 On Thursday, Aug. 31, from 6-7 p.m. Corey Anthony, past chair of Dallas CASA's board of directors and a volunteer advocate, will share his story of the importance of advocacy, particularly the importance of men supporting boys without healthy male figures in their lives. Anthony is senior vice president, engineering and operations at AT&T and serves as an advocate along with his wife, Priscilla Anthony. The couple know that child victims of abuse and neglect need male volunteer advocates to stand up for them. 
In 2022, more than 1,500 Dallas CASA volunteer advocates served 2,611 children removed from their homes due to abuse or neglect. While more than 50 percent of these children are male, only 17 percent of our current volunteers are male. Many children in foster care have suffered from a lack of male care and guidance in their lives. Many do not have fathers to guide them and show them what a good man is. These children need to experience the positive presence of safe men. Boys of all ages need to see healthy male role models committed to ensuring they are safe. For many children in foster care, their CASA volunteer is the only consistent, caring adult in their lives during a frightening, uncertain time.
Interested men should contact [email protected].