By Blanca Reyes
Mas O Menos /A Retrospective (Part II) is the recompilation of Benito Huerta's work from 1970 to the present. The current exhibition at The Latino Cultural Center includes paintings inspired by his Texas roots and different aspects of life, which, in his words, all people go through. The exhibition has about 35 pieces of art and it will run until March 14.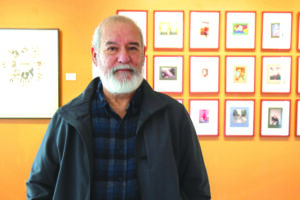 The exhibition is a mix of paintings, drawings, prints, photographs, watercolors and sculptures. All of them represent Huerta's vibrant way to see the world.
"I don't refer to myself like a painter … I just refer to myself like an artist because it keeps the door open to do other things," Huerta said. 
Huerta said that his mother had a great influence on him when she encouraged him to enter an art competition when he was a senior in High School. Huerta got into the exhibition. After that, he got into a painting school where his friends and fellow students encouraged him to develop his talent as a painter.
Although Huerta has a prolific portfolio, there is not one piece that he can call his favorite. 
"It's difficult to say because it's about 30 pieces in the show and it cover almost 50 years of my life. There are certain pieces in the exhibition that might be important at that point in my career as an artist," Huerta said. 
People can enjoy, for example, Huerta's version of Loteria, which is Mexican bingo. As part of Loteria, Huerta has an auto portrait, which is a skull because it is visioned in 2050. 
Also, Huerta has different pieces influenced by Picasso's Demoiselles d' Avignon and other famous painters. Although he said his major inspiration is not Texas, Corpus Christi and Houston are presented in his work. The first one is his hometown and the second one is where Huerta grew up. One can also see representations of California and New York, where Huerta has also lived.
When the exhibition was being organized, the idea was to present Huerta's most recent work or have a retrospective. The first part was previously presented in Fort Worth.
According to Huerta, the exhibition gives an overall view of his career even for people who have not seen the first part of it.
Huerta is also a professor at the University of Texas in Arlington, which will host his artwork next January. That exhibition will be a work in collaboration with his wife, Janett Chaffee. 
Although Huerta has had a busy life and is one of the most influential artists in the Hispanic community, he remains humble and focused on advancing his career as an educator and artist.
"My favorite place to represent my work is anywhere where my work is presented," Huerta said.
The Latino Cultural Center is located at 2600 Live Oak St. in Dallas. Huerta's exhibition will run until March 14. Call 214-671-0045 for more information.