From Staff Reports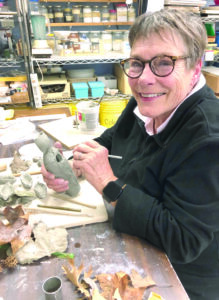 White Rock Artist Rebecca Boatman has started offering two-hour clay workshops in her East Dallas studio. She brings experience from teaching for 35 years in both public and private schools including North Lake, Richland and Brookhaven Colleges. The workshops include all supplies and expenses and are suitable for all levels of experience, including beginners. 
There will be a specific theme for each workshop but creativity will be emphasized. Students can create variations based on personal choices.  The December 3 workshop theme is Angels or Holiday Characters.
Boatman has participated in the White Rock Lake Artists' Studio Tour since 2003. Her work can be seen at the Bath House Cultural Center exhibit Deep Dive and the Creative Art Center Blue Yule. Both shows are opening December 3. She also maintains a studio at Goldmark Cultural Center in Dallas. Her sculptures are included in collections throughout the U.S. including Orton International Cone Box Collection, Johnson & Johnson, Xerox Corporation, Eastman Kodak and Volunteer Hospitals of America. Boatman's other interests include world travel and gardening. Additional information on the workshops can be found at rebeccaboatman.com.