April 5, 1920 — Aug. 11, 2018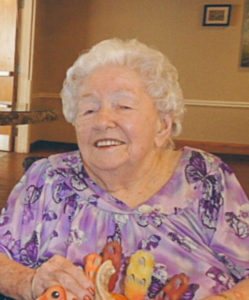 Audrey Jewel (Covey) Secrest passed Saturday morning August 11, 2018, at the age of 98 in Carrollton, Dallas County, TX. She is reunited with her beloved husband, Jesse Athol Secrest, who predeceased her in 2013. From their first meeting in Corpus Christi, they shared a joy for life and family together for 72 years.
She was born in Corpus Christi, Nueces County, TX on April 5, 1920 to George Edwin Covey and Lola Grace Grimm. Audrey grew up with her two brothers and three sisters enjoying the waterfront activities of Corpus Christi Bay. She graduated from Baylor School of Nursing as a Registered Nurse. Audrey married Jesse Athol Secrest of Sylvan, TX on Aug. 5, 1941 in Dallas, Texas before he shipped out to North Africa and Europe in WWII.
She was a devoted nurse who turned her care to begin her family upon Jesse's return at the end of the war. They lived in Dallas from 1957 until 2011. As we remember our Mother, caregiver, champion and comforter, we find happiness in her example of faith and devotion to family and friends. Audrey Jewel (Covey) Secrest is survived by her five children: daughters, Peggy (and Ron Ables) of Highland Village, TX; Pamela (and Hartmut Jung) of Augsburg, Germany; and Novelyn 'Penny' Secrest of Flower Mound, TX; sons, Jeffrey (and Mary) Secrest of Fairfax, Va., and Jon Secrest of Dallas, Texas; brother Clyde Covey; and 11 grandchildren and 27 great grandchildren.
Services will be Aug. 25 at Restland Cemetery, 13006 Greenville Ave. in Dallas. Visitation is from noon-1:45 p.m., with a graveside service at 2 p.m.