Streusel: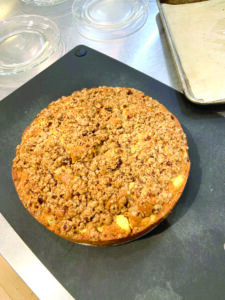 1/2 cup unbleached all-purpose flour 
2 tablespoons light brown sugar 
1/2 teaspoon ground cinnamon 
1/4 teaspoon kosher salt 
1/4 cup unsalted butter, room temperature 
Cake:  
2 cups unbleached all-purpose flour 
1 teaspoon baking powder 
1 teaspoon baking soda 
1/2 teaspoon kosher salt 
1/4 teaspoon nutmeg 
1/4teaspoon ground allspice 
1/4 teaspoon ground cardamom 
1/2 cup unsalted butter, room temperature 
3/4 cup sugar 
2 large eggs 
1 cup sour cream 
1 teaspoon vanilla extract 
3 Honeycrisp apples, peeled, cored and chopped into bite-size pieces 
Heat oven to 325°F. Lightly grease a 9-inch springform pan with baking spray. In a small bowl, combine streusel ingredients and mix with a fork until well combined. The mixture will look lumpy. In a medium bowl, stir together flour, baking powder, baking soda, salt and spices. Combine butter and sugar in a mixing bowl and mix on medium speed until light and fluffy, about 3 minutes. Reduce the speed to low and mix in eggs, one at a time, until well combined. Add sour cream and vanilla. On low speed, stir in the flour mixture until just combined. Fold in apples. Pour batter into prepared pan and top with streusel. Bake until a toothpick inserted in the center comes out clean, about an hour. Let cool in pan before removing pan side and cutting.