By Chic DiCiccio
"Bad Boys for Life" may be the first movie ever made that makes viewers miss Michael Bay. If there is one area where Bay excels, it's turning brain-dead scripts into entertaining (yet still brain-dead) movies. This is a guy that directed the hell out of the first two silly "Bad Boys" scripts and made them way more fun than they truly deserved.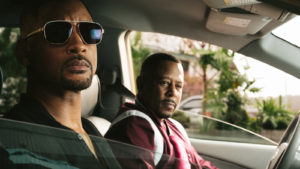 This wholly unnecessary sequel is not only virtually humorless, it's an ultra-violent bore that employs every cliched action movie trick in the book. 
Director duo Adil El Arbi and Bilall Fallah seem to think that any shot of Will Smith's Detective Mike Lowrey in slow motion is a good one, including one in which Lowrey leaps off a motorcycle onto a flatbed truck loaded with propane tanks while the big bad guy fires a rocket launcher at him. Needless to say, this movie and "realism" should not collide in the same sentence. 
The flimsy plot centers around Isabel Aretas (Kate del Castillo), the wife of a deceased Mexican criminal who breaks out of prison to exact revenge on a group of Miami law enforcement professionals. She's joined by her clearly psychopathic son, Armando (Jacob Scipio), who actually is the star of what can only be described as a "musical assassination montage." 
The only amusement comes from the banter between Mike, his partner, Inspector Marcus Burnett (Martin Lawrence), and Captain Howard (Joe Pantoliano, clearly having a blast). Mike and Marcus get some "get off my lawn" moments as they complain about being lumped in with a new police unit loaded with millennials (Vanessa Hudgens, Alexander Ludwig, Charles Melton) and there's some awkward sexual tension between Mike and his new boss, Rita (Paula Nunez). But other than that, the laughs are few and far between and several of them fall embarrassingly flat. 
Poor Martin Lawrence. He's nothing more than comic relief here and, more often than not, his character is more of a police hindrance than help. Sure, he's been responsible for the gags in this film series while Smith plays the straight man, but even his yuks seem sidelined for most of the movie. In fact, he makes the same joke twice, almost word for word. 
There's no doubt that Will Smith's movies are basically box office proof. Even his disasters (like "Gemini Man," woof) end up making money in the long run, but Smith sure could use a movie that isn't subpar. He doesn't seem invested here at all, and one scene is so melodramatic that it's only saved by Lawrence's levity. 
"Bad Boys for Life" could have been saved if Smith and Lawrence's chemistry didn't completely disappear during the last 20 years. It's not aided by a completely ridiculous plot twist that invents story out of thin air instead of maybe referencing something, anything from the two preceding movies. At least that would have made sense instead of making Lowrey even less likable. 
If there is a movie banking on nostalgia over originality, it's "Bad Boys for Life." It's not like the first two movies are epic pieces of filmmaking, but at least they are fun. This movie, which actually tries to set up another movie, is dead on arrival and this would-be franchise is a total non-starter.