1½ pounds new potatoes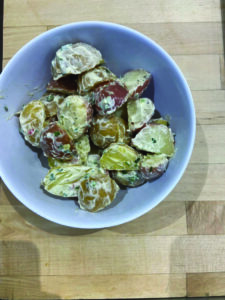 ½ cup mayonnaise 
¼ cup buttermilk 
2 tablespoons white wine vinegar
¼ cup chopped fresh tarragon
¼ cup minced Italian parsley leaves 
¼ cup chopped fresh chives
Kosher salt and black pepper 
_______
Add potatoes to a large saucepan and cover with water. Season water with salt and bring to a boil. Reduce heat to medium and simmer potatoes until just tender, 8 to 10 minutes. Drain potatoes in a colander and transfer to a baking sheet to cool. When cool enough to handle, cut in half, lengthwise. 
Meanwhile, make dressing: In a mixing bowl whisk together mayonnaise, buttermilk and vinegar. Whisk in herbs and season with salt and pepper. 
Transfer cut potatoes to bowl with dressing, toss to combine. Taste and adjust seasoning with salt and pepper. Cover and refrigerate for at least 1 hour before serving.