1 pound salmon fillet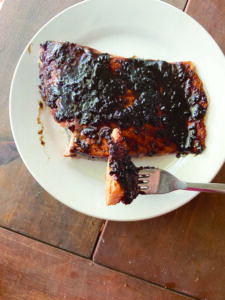 1 tablespoon vegetable oil
1 shallot, minced
1/2 cup balsamic vinegar
1 tablespoon whole grain mustard
1 tablespoon honey
Salt and pepper
Heat oven to 400F. Line a baking sheet with foil. Place salmon skin side down on prepared baking sheet and season with salt and pepper. 
In a small skillet over medium heat, heat oil until hot. Add shallot and saute until soft, about 2 minutes. Whisk in vinegar, mustard and honey. Simmer until reduced by half, about 4 minutes. Brush glaze on salmon and bake for 5 minutes.
Remove salmon from oven, brush with glaze again, and bake an additional 10-12 minutes until cooked through.