¾ cup (1½ sticks) unsalted butter, at room temperature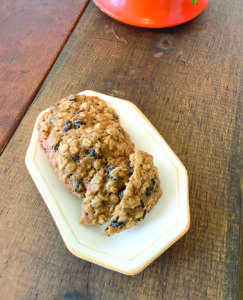 1 cup (packed) light brown sugar
½ cup granulated sugar
1 cup mashed banana (about 2 large)
1 egg
1 teaspoon vanilla extract
1½ cups all-purpose flour
2 teaspoons cornstarch
2 teaspoons kosher salt
2 teaspoons cinnamon
1 teaspoon baking soda
3 cups old-fashioned oats
1 cup raisins
Heat oven to 350F. Line baking sheets with parchment.
In a mixing bowl, cream together butter and sugars until combined. Stir in banana, egg, and vanilla. In a separate bowl, stir together flour, cornstarch, salt, cinnamon, and baking soda. Stir in to banana mixture. Fold in oats, then raisins.
Scoop out dough by rounded tablespoons onto prepared baking sheets, leaving 2 inches between them. Flatten scoops slightly. Bake until set and golden, 11 to 13 minutes.
Let stand on baking sheet 10 minutes before removing to a rack to cool completely.