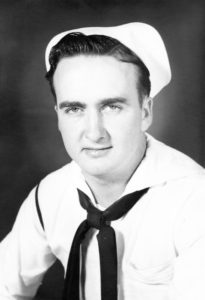 Basil "Big Money" Roland Gentry, 93, of Garland, Texas entered the Pearly Gates of Heaven surrounded by family on Aug. 6, 2019. Basil was born to parents Joseph Napoleon Gentry and Nora Cornelia Farmer Gentry on January 26, 1926 in Reinhardt, Texas. He was the last man living from Reinhardt, which is now East Dallas near White Rock Lake at Garland Road and Peavy Road. 
Known as the "richest man in town" for his incredible personality and kindness, he was an exceptionally devoted son, husband, father, Paw Paw, brother, uncle, cousin and a caring friend who was always up for a game of dominoes. Everyone who met him said Basil never met a stranger. If he met you once, he'd remember you forever. 
Basil was a proud WWII veteran, who served in the Pacific Fleet on the U.S. Navy attack transport ship the USS Panay. He often told people that they were on one of the most important ships because they carried "Bombs, Beef and Beer."
In 1950, Basil's life changed when he and his best friend Phil were at a diner on Greenville Avenue. At the table next to them, Basil spotted a beautiful, blonde nursing student from St. Paul Hospital. After an hour conversation with her, he knew he was going to marry her one day.  
His gut instinct was right, and they were married soon thereafter. Surrounded by family and friends, they celebrated their 65th wedding anniversary last November. He is survived by his loving and loyal bride, Mary Lucille "Lou" Gentry.
Basil worked for the John E. Mitchell Co. at 3800 Commerce Street in Dallas for 42 years, where the employees were family and not just co-workers. The company was a manufacturer of cotton gins, war production, Mark IV air conditioners, and were the first distributors of the ICEE machine. While he was at Mitchell's, Basil led in the establishment of the Community Chest in Dallas, which later became the United Way of Metropolitan Dallas. 
Basil also worked for the University of Texas Southwestern Police Department, where he worked for 11 years and later retired. He was also an entrepreneur who created many businesses throughout the years. Basil was very proud that he never missed a day of work in his life.
Basil is preceded in death by his parents and siblings, Orville Gentry, Clyde Gentry, Granville Gentry, Dorothy Garner and Millie Cavender. In addition to his wife, he is survived by his five children: Rhonda Lou Ensey (Steve), Cindi S. Gentry, Dr. Kim Roland Gentry (Helena), Robin Ann Gentry and Suzanne Gentry Flodin (Doug). He is also survived by eight grandchildren: Brett Ryan Franks, Jessica Lauren Segars, Tanner Basil Gentry, Taylor Wilhemina Greene, Micah Wilhemina Gentry, Andee Wilhemina Gentry, Tristan Basil Gentry and Riley Dylan Flodin; and three great-grandchildren: Chase Ryan Franks, Morgan Elizabeth Franks and Presley Rae Segars. He was looking forward to meeting his future great-grandchildren arriving this fall: Charlotte Marie Gentry and Hendrik Scott Greene. He adored his many nieces, nephews and cousins.  
Basil believed that the most important things in the world were family and love, and the family couldn't agree more. Each year, he was proud to plan and attend his beloved Farmer Family Reunion. When recently asked what the biggest accomplishment of his life was, he said, "That is easy — I have five great kids."
In addition to being a loving family man, Basil was a patriot and a man of integrity. He lived by simple rules: Be fair. Be honest. Avoid debt. Admit to your mistakes when you are wrong. Lead by example. Work hard. 
Help those in need. Eat dessert first, especially peach ice cream, peanut patties and anything coconut. Be on time. Always vote. You are never too old to learn. Volunteer. Make time to spend with family and friends. Fly the flag every day, not just on holidays. Be a blood donor. Get a little exercise each day. Forgive lovingly because people make mistakes. Be a good neighbor and "do not get in front of my chair during a Cowboys game."
Basil was an avid sports fan and most likely the biggest Dallas Cowboys fan on Earth. He also loved his Texas Rangers, Dallas Mavericks and SMU Mustangs. 
He attended several MLB All-Star games, a World Series game and many Dallas Cowboys games with his son Kim. He also loved dominoes, playing the game since the age of three. 
He played on his lunch break at work for 25 years, had a regular Friday domino day with his best buddies and a 42 Dinner Club group with his sisters and best friends for 40 years.  
Basil was also a great storyteller, entertaining family and friends for hours. He was a collector, and especially enjoyed collecting U.S. State Quarters. Basil also enjoyed playing the same lottery numbers (his birthday and his kids' birthdays) each week for the past 28 years. 
He was an incredible bowler and, at one time, bowled three days a week in different leagues, bringing the entire family with him. He was asked to bowl professionally on a team but could not take the risk of leaving his job that supported his family. He never bowled the perfect game, but came very close, many times including bowling a 299. 
He was an avid gardener and was most proud of his tomato and okra plants and banana trees. He loved woodworking and building wood birdhouses. 
He loved his dogs and walked them around the neighborhood all the time. When he wasn't outside, he enjoyed watching John Wayne movies and loved watching FOX News. 
Basil was so proud to be on the inaugural DFW Honor Flight to D.C. and volunteered for many years. He was proud that all five of his children and many of his grandchildren volunteered for the organization to help give other veterans the opportunity to take a once-in-a-lifetime trip.
When recently asked, "If you could choose your last words, what would they be?" He said, "I have had a wonderful life — just like Jimmy Stewart." Indeed, he did. 
In lieu of flowers, please send donations to Honor Flight DFW, 2201 Long Prairie Rd. Suite 107, PMB 376, Flower Mound, TX, 75022.