2 pounds chuck roast or boneless leg of lamb, cut into 1-inch pieces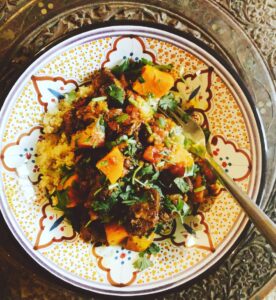 1 onion, diced
2 teaspoons paprika
1 teaspoon turmeric 
1/2 teaspoon each cayenne, ground cumin, ground ginger
1 (15-ounce) can diced tomatoes, drained
2 sweet potatoes, peeled and cut into 1-inch chunks 
1/4 cup chopped cilantro or parsley, divided
Oil, salt and pepper
Couscous or quinoa, for serving. 
Heat oven to 350F. 
Heat 2 tablespoons oil in a Dutch oven or large covered ovenproof skillet. Working in batches, brown the beef and remove to a plate. 
Sauté onions until translucent, then add the spices and toast until fragrant. 
Add the beef back to the pan, add 1 cup water, cover, and transfer to the oven. Bake until beef is tender, about 90 minutes. 
Remove from oven, add tomatoes, sweet potatoes, and half of the fresh herbs. Cover and cook again until the sweet potatoes are soft, about 40 minutes. 
Season with salt and pepper and garnish with the rest of the herbs. Serve over couscous or quinoa.