1 pound dried elbow macaroni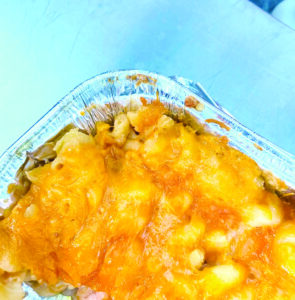 1 cup unsalted butter
1 cup all-purpose flour
2 cups whole milk
1 cup heavy cream
1 teaspoon dry mustard
8 ounces cream cheese
4 cups shredded medium sharp 
cheddar cheese 
2 cups shredded fontina cheese
Salt to taste
Heat oven to 400F and butter a 9 x 13 baking dish.
Bring a large pot of salted water to a boil. When boiling, add dried pasta and cook 1 minute less than the package directs for al dente. Drain and set aside.
Melt butter in a large saucepan over medium heat. Sprinkle in flour and whisk to combine. Cook for approximately 1 minute, whisking often. Gradually whisk in milk until combined and smooth. Whisk in cream, then cook, whisking constantly, until thick (like thick gravy). 
Remove from the heat and stir mustard and cream cheese, then stir in 2 cups of cheddar and 1 cup of fontina. 
Stir in drained pasta until mixed. Pour half of the pasta mixture into the prepared baking dish. Top with half of the remaining cheese, then top that with the remaining pasta mixture. Sprinkle with remaining cheese and bake for 15 minutes, until cheese is bubbly and lightly golden brown.