By Shari Goldstein Stern
"Oh, how nice. Some of my best friends are Jewish." Smile politely. Try to control that muscle that pops out on your jaw when you grit your teeth. Get over it until next time.
How many times do we have to hear it? How long does it take for normal people to evolve? When will they understand? The question begs an answer in M. Denise Lee's new play, "Funny, you Don't Act Like a Negro," now in a run through March 15 at Theatre Three (T3).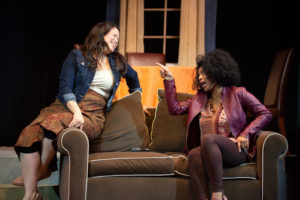 While the content, biases and hate are relevant, although irreverent, critically important but satirized, and quite serious, it's told with just enough sarcasm and humor to give the irony some legs. Some of the humor merits big laughs. Lee opens an old, familiar narrative that most of us recognize but say, "I'm glad I'm not like that." 
Through outstanding direction by Christie Vela, T3's associate artistic director; T3's Artistic Director Jeffrey Schmidt's unique set; Elise Sottile's and Lindsay Silva's lighting; and Sid Curtis' projection design, every square inch of T3's performance space is subtly, effectively utilized. The overhead TV sets take us back to the 1950s.
The story opens to three young girls, one Hispanic, one Black and one White, enjoying playing simple games together outside. After they spend some time in each of their homes, listening to their parents' words, they return to the school or park where they were playing. But now they looked uncomfortable with every eye contact. Could that be about something their parents said?
Thankfully, after the girls get to know each other, they become friends who really enjoy playing games together. Their bias is tempered.
The singer, actor, playwright came up with the idea for this play 15 years before writing it. "I've talked about it for so long, never really thinking I could do it. Jeffrey Schmidt [T3's artistic director] believed in me. Also, I believe everything happens for a reason. I think it's important that we start having more of the conversations the play dictates," the playwright said.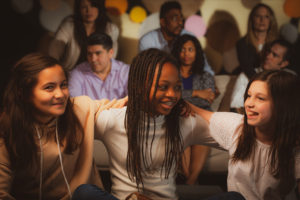 Lee hopes people will leave the theater looking at their own behaviors and biases, honestly asking themselves what part we play in passing on learned behaviors.
The end of the show is so understated you may not realize it's over. Lee explains: "I don't know that it's ever over. We have a lot of work to do with regards to race, gender, orientation and other biases." She added, "The point I hope the children hammer home is, we're teaching them to hate before they even know why."
The three young actresses filling the roles of Child 1, Child 2 and Child 3 bring maturity to their characters. Summer Stern, Child 2, has been seen on area stages including Uptown Players, Lyric Stage, Stage West and others. She is the White girl whose mother, Woman 2 is played with naivete by Jessica Turner, who cannot stay away from the window making racial comments about every neighbor of a different color.
Alexis Muturi as Child 1 has performed at theaters including Firehouse Theatre and Robinson Middle School after making her acting debut at the Jewish Community Center. Muturi says she has every intention of working on Broadway. With her talent, long legs and beautiful face the performer is bound to work hard and make it. It's her Black mother, Woman 1, who the White mother, Woman 2, doesn't think could live in the neighborhood, but must be someone's maid. Jazzay Jabbar is the most fun mother to watch. 
The Hispanic Child 3, played stunningly by Juliana Gamino, recently performed in Dallas Theater Center's "A Christmas Carol." She loves all forms of art, and studies ballet and jazz, along with playing the violin. Her mother, Woman 3 is the lovely Liza Marie Gonzales, who is an artistic company member at Kitchen Dog Theatre, and has been seen at Second Thought Theatre, Dallas Children's Theatre, Undermain, Cara Mia and other venues in the area. She will play Margo Medina in the upcoming film "Final Dress," which was also directed by Vela.
Then there's the chameleon who can play any part, anywhere, as Man 3, the Hispanic father. Showing off his range in the role is David Lugo, who will soon have his first service as minister at the community church. The church's very conservative membership doesn't know he's Hispanic. As the host of a game show, Lugo manages to pull out the best humor from random patrons.
Dallas playwright, Jonathan Norton was a mentor to Lee and a major influence in writing the play. 
When asked how she felt about the evening's performance, Lee said: "I'm thinking back over the night and I don't know that I have the words for that yet. It's still pretty surreal."
"Funny, You Don't Act Like a Negro" continues at T3 through March 16. For tickets visit theatre3dallas.com.