By R. H. Lannen
A local chain, Biscuit Bar, has finally brought their version of fast-casual dining closer to the Eastside. As with many new restaurants in this style, they offer fast-food style food service and preparation with the bonus of alcohol. The Biscuit Bar is giving it their all to garner the attention of the post-bar and growing nightlife in Deep Ellum, being closed as little as four hours on weekends. Luckily, their house-made biscuits may be just what the late-night crowd is seeking.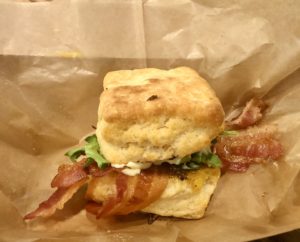 The format of Biscuit Bar is one-size fits all, using the same biscuits to create more than 20 different menu options. The biscuits themselves are incredibly buttery, creating a smooth flavor, albeit thick and very dense, rather than soft and fluffy. To that effect, the consistency of the biscuits allowed them to stand up to the barrage of toppings loaded onto every dish. Primarily the biscuits are used to make a variety of sandwiches, some sweet and some savory, as well as a handful of other unique specialty items. 
The sandwiches are by no means massive, but they are modestly priced, allowing you to sample a few. With such a dauntingly extensive menu and so many things to choose from, I decided to start at the top. I began with the bacon, egg and cheese biscuit. The bacon was thin and crispy, and the egg was cooked to a perfect over-easy consistency, oozing out the yolk from the first bite. Unfortunately, the "cheese blend" resembled a heaping helping of nacho cheese, drenching the entire biscuit and spilling over the sides. I am always weak for a piece of fried chicken paired with any breakfast bread, so the Hot Hot Chicken sandwich quickly became a favorite. The spicy Nashville style chicken breast that adorned the biscuit was tender and juicy, with just the right amount of heat. Dill pickles and a saucy house-made ranch dressing rounded out the sandwich perfectly. Beyond those, there are a plethora of options of sandwiches, but one that stood out as an undeniable success was the F.A.B.B. filled with a smattering of lovely fig preserves, bacon, melted brie and small dosing of arugula for a bitter bite. 
In addition to the sandwiches, Biscuit Bar creatively re-purposes their biscuits into several other breakfast favorites. Be it dipping the biscuit in sweet vanilla custard and frying it into the Biscuit French Toast or smothering it in chocolate "gravy" and topping it with melted marshmallows to create what is aptly named the Hot Chocolate Biscuit.
All in all, Biscuit Bar is so heavy and filling, it is less of a meal I would choose first thing in the morning but offers a fantastic option for some hearty and filling plates to soak up an alcohol-filled night of debauchery in Deep Ellum. However, if you require a little hair of the dog, their full bar is happy to accommodate a variety of brunch themed cocktails. If a hearty and filling meal is what you are looking for, Biscuit Bar delivers with great success. 
Biscuit Bar: Deep Ellum
2550 Pacific Ave., Suite 150
Dallas, 75226
469-638-9390
Mon. – Wed. 7 a.m.-11 p.m. Thur. – Fri. 7 a.m.-3 a.m. 
Sat. 8 a.m.-3 a.m.  
Sun. 8 a.m.-Midnight