1 head broccoli, cut into small florets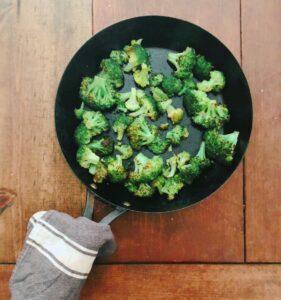 1/2 teaspoon red pepper flakes
Oil, salt and pepper
Heat broiler on high. Place a 12-inch cast iron or carbon steel skillet under broiler for 5 minutes. 
In a bowl, toss broccoli florets with oil and season with salt and pepper. Carefully remove pan from oven and pour broccoli in, spreading into an even layer. Drizzle lightly with oil and return pan to oven. 
Broil until charred and bright green, about 6 minutes. Sprinkle with red pepper flakes and serve.