1 spaghetti squash, cut in half, seeds removed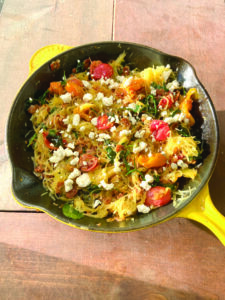 2 tablespoons vegetable oil 
6 slices bacon, cut into 1/4-inch strips
1 onion, diced
1 cup cherry tomatoes, halved
2 cups arugula 
1/2 cup crumbled blue cheese
Salt and pepper
Heat oven to 400F. Line a baking sheet with foil. 
Drizzle cut side of squash with oil and place on foil cut side down. Bake 45 minutes. Using a fork, shred flesh into strands. 
Meanwhile, cook bacon in a large skillet until golden. Add onion and cook until translucent, about 2 minutes. Add tomatoes and cook until softened, about 3 minutes. Add arugula and stir until wilted. Add squash and toss to mix. Season with salt and pepper. Transfer to a serving bowl and sprinkle with blue cheese.