Ribs: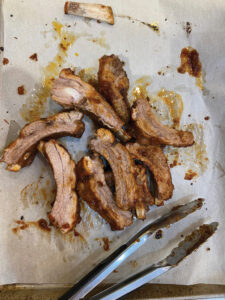 3 tablespoons light brown sugar 
1 tablespoon dry mustard 
1 tablespoon paprika 
2 tablespoons chili powder 
1 tablespoon garlic powder 
1 teaspoon freshly ground black pepper 
2 racks baby back pork ribs (4 pounds), cut into thirds, silver skin removed
1/2 cup water 
1/4 cup apple cider vinegar 
1/4 cup crushed tomatoes 
1/2 teaspoons Tabasco sauce 
1/2 medium yellow onion, sliced 
Glaze: 
1 tablespoon vegetable oil 
1/2 cup yellow onion, grated
1 tablespoon chopped garlic 
3/4 cup apple cider vinegar
2 tablespoons molasses 
1/2 cup bourbon 
1/2 cup packed light brown sugar 
1/2 cup crushed tomatoes 
Kosher salt and freshly ground black pepper 
Heat oven to 450°F. Line a baking sheet with parchment paper. 
In a small bowl, mix salt, brown sugar, mustard, paprika, chile powder, garlic powder and black pepper, whisk to combine, breaking up any lumps. Rub ribs with seasoning on both sides. Cover and transfer to refrigerator for 1 hour, or up to 10 hours. 
2. Meanwhile, heat oil in a medium saucepan set over medium-high heat until hot. Add onions and sauté until translucent, about 3 minutes. Add garlic and sauté until fragrant, about 1 minute. Stir in remaining ingredients and simmer, stirring occasionally, until the glaze is thickened and reduced to a syrupy consistency, about 10 minutes. Taste and adjust seasoning with salt and pepper. 
3. Add water, vinegar, tomatoes, Tabasco and onion to a pressure cooker. Set a rack over liquid. Arrange ribs standing up on rack. Secure the lid and select Manual Pressure on high for 18 minutes. Release pressure; transfer ribs to baking sheet and set aside. 
4. Using a silicone brush, paint meat side of ribs with sauce. Transfer to oven and roast for 5 minutes. Remove and paint ribs one more time with sauce, roast for 5 additional minutes. Let the racks rest for 5 minutes before slicing into individual ribs.