5 pounds beef cheeks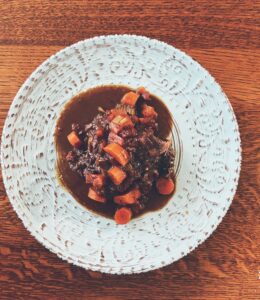 4 tablespoons oil
1 large onion, diced
4 carrots, diced
3 celery stalks, sliced
6 garlic cloves, minced
1 teaspoon unsweetened cocoa powder
3 cups fruity red wine 
1 (28-ounce) can diced tomatoes with juice
Kosher salt and pepper
Preheat oven to 300F. 
Rinse and pat dry beef cheeks. Remove the excess fat if desired. In an ovenproof Dutch oven, heat 2 tablespoons of oil until hot. Season beef cheeks liberally with salt and pepper. Working in batches, sear on both sides until brown, 5 to 8 minutes per side. Transfer to a plate. 
Heat remaining oil and add onion, carrot, garlic and celery. Cook, stirring, until onion is translucent. 
Stir in cocoa powder. Add wine, scraping the bottom of the pot, then bring to a boil. Let boil until reduced by half, then stir in tomatoes. Add beef cheeks back to the pot, pushing them into the liquid. Bring to a simmer. Cover and transfer to the oven. Braise, covered, at 300º for 4 to 6 hours or until very tender. Remove cheeks and bring liquid to a boil until reduced by half. Add beef cheeks back to pot and serve.