By Natalie Merrill
The Greater East Dallas Chamber of Commerce (GEDCC) consistently supports teachers and students in local education, including its annual Teacher of the Year event that honors awarded Dallas educators. On Tuesday, Sept. 19, the GEDCC will host a luncheon with a panel discussion regarding how Dallas ISD and Dallas College are preparing students for the workforce.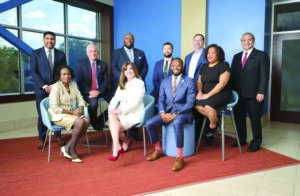 Dr. Chuck Kobdish, a local chiropractor and vice chair of the GEDCC, will serve as the moderator for the panel discussion.
The panel consists of the following individuals:
• DISD Chief of Strategic Initiatives Dr. Brian Lusk
• DISD Trustee (District 3) Dan Micciche
• Dallas College Trustee (District 2) Philip Ritter
• DISD Trustee (District 2) Sarah Weinberg
Kobdish said the panel could have discussed a number of topics pertaining to education but, because it is presented by the GEDCC, the focus is geared more toward businesses and economic growth.
"Education is the most important economic engine that any municipality has," he said.
Because the board comprises business owners, the workforce is a prioritized concern to its members. Thus, the intention of the luncheon is to further inform them of how Dallas ISD and Dallas College are valuable resources that offer capable individuals who can fill job vacancies.
"What I really want is for all our members in the audience to have a greater understanding and appreciation of the talent that's coming out of DISD and Dallas College right now," Kobdish said. "They really are working well together to get these students ready to get out there and work, which is helpful for our members."
Kobdish said the high school and college students who are currently already in Dallas, particularly East Dallas, are available for hire and are searching for jobs, and he wants to ensure that the upcoming luncheon does its part to inform business members of the resources available to them. "If you want to talk about an economic engine for a community — whether it's a small community, a neighborhood or a larger city — you have to address education," he said. 
The luncheon is on Tuesday, Sept. 19, from 11:30 a.m. to 1 p.m. at the Lakewood Country Club, 6430 Gaston Ave. in Dallas. Visit eastdallaschamber.com to register for this event.