I used icicle radishes, but regular radishes or breakfast radishes are just as delicious cooked this way. Braising mellows the radishes' bite and brings out their sweetness.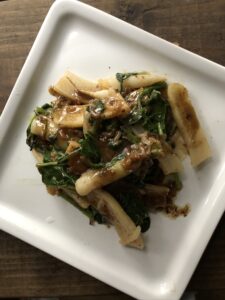 4 tablespoons butter, divided
1 small yellow onion, thinly sliced
2 large bunches radishes with greens, radishes rinsed and sliced in half, greens cut off and rinsed
Kosher salt and pepper to taste
Water
In a large skillet, melt three tablespoons butter and sweat onion just until translucent. Add radishes cut side down and season with salt and pepper. Pour in water to almost cover, then bring to a simmer. Cover pan loosely with foil and cook until radishes are tender, about 8 minutes. Add greens, cover and cook until wilted, about 2 minutes. Transfer greens and radishes to a serving bowl. 
Bring liquid in pan to a simmer and reduce to about 1/4 cup. Remove pan from the heat and stir in remaining butter. Season with salt and pepper. Drizzle pan sauce over radishes and greens and serve.