Brownie layer
1/2 cup unsalted butter
8 ounces chopped bittersweet chocolate
1/2 cup sugar
2 eggs
1 teaspoon vanilla extract
3/4 cup all-purpose flour
3 tablespoons cocoa powder
1/2 teaspoon salt
Cheesecake layer
8 ounces cream cheese softened
1/4 cup granulated sugar
1 egg
1/3 teaspoon salt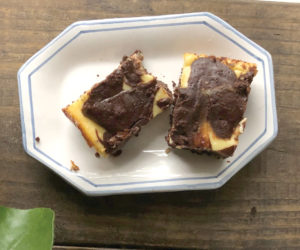 Heat the oven to 350 F. Line 8×8 pan with parchment paper and coat with cooking spray.
Make the brownie layer: Combine butter and 7 ounces (about 1 and 1/3 cup) chocolate in a mixing bowl. Microwave in 30 second increments until just melted; stir until smooth. Whisk in sugar, then eggs and vanilla. Stir in flour, cocoa powder, and salt. Scoop out about 1/3 cup brownie batter and set aside. Fold remaining chocolate into larger amount of batter.
Make the cheesecake layer: In a bowl, whisk together all ingredients until smooth.
Spread brownie batter into pan. Pour the cheesecake mixture over the brownie batter. Stir 1 tablespoon of very hot water into the reserved brownie batter. Dollop brownie batter over cheesecake. Use a knife to swirl together.
Bake 30-35 minutes or until a toothpick inserted into the center comes out with just a few crumbs attached. Cool brownies completely before cutting.