4 chicken thighs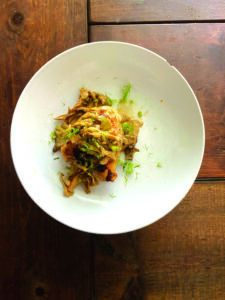 2 garlic cloves, sliced
2 fennel bulbs, thinly sliced, fronds reserved for garnish
1 pound oyster mushrooms, torn into small pieces
3/4 cup heavy cream
Oil
Salt and pepper
Heat oven to 350F. 
Heat 2 tablespoons oil in an ovenproof skillet over medium heat. Season chicken with salt and pepper and place skin side down in heated skillet. Cook until golden brown, about 4 minutes, then turn and cook on the other side 2 minutes. Transfer to a plate.
Add garlic to pan and cook just until fragrant, about 30 seconds. Add fennel and cook until starting to wilt, about 2 minutes. Stir in mushrooms. Return chicken to pan and place pan in oven. Bake until chicken is 170F, about 25 minutes.
Place skillet over medium heat and transfer chicken to serving plate. Add cream to skillet and cook, stirring, until liquid is reduced by about half, about 3 minutes. Season to taste with salt and pepper. To serve, spoon mushroom mixture over chicken and garnish with reserved fennel fronds.