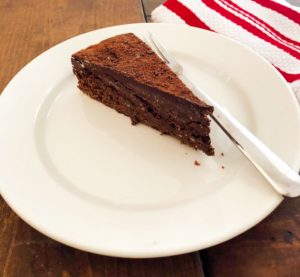 Cake layer:
1 cup flour
1/4 cup plus 2 tablespoons unsweetened cocoa powder
1/2 teaspoon baking soda
1/4 teaspoon salt
1 stick butter, melted
1 1/4 cups brown sugar
2 eggs
1 teaspoon vanilla
1/2 cup hot water
Truffle layer:
1 pound bittersweet 
chocolate, chopped
2 tablespoons butter
1 tablespoon brown sugar
1 1/4 cups heavy cream
Cocoa powder and flake salt, for finishing
Preheat oven to 350F. Grease side of an 8-inch springform pan. In a small bowl, whisk together the flour, cocoa, baking soda and salt. 
In a large bowl, combine the melted butter and brown sugar. Blend in the eggs and vanilla. Add flour mixture and stir just until moistened. Pour hot water over batter; stir just until smooth. Pour into prepared pan. Bake 35 to 40 minutes or until a toothpick inserted into center of cake comes out clean. Cool completely in pan on rack. 
Meanwhile, make truffle layer. In a microwave-safe bowl, heat chocolate and butter in 1-minute increments, stirring until melted and smooth. Stir in brown sugar and cream. Let cool just until thick enough to spread, then pour over cake layer. Chill until set, about 3 hours. Remove side of pan. Dust with cocoa and sprinkle with salt just before serving.