By Cody Douds
In 2020, Charles A. Owens (17) sat next to his mother, Jodie, in their red Ford sedan. A nauseating knot tightened in his stomach, and his mind reeled with uncongealed thoughts. He was considering the possibility of becoming a music artist but lacked confidence in his talent. He decided to share these fears with his mother as they drove. The more he spoke and shared his dreams, the more he became Comet Owen.
For Comet and his family, music has always been a passion. The first artists who inspired Comet are known for feel-good dancefloor jams and impressive verbal fluency. Comet's grandparents, Linda Spence-Reed and Iva J. Spears, introduced him to Michael Jackon and Tony! Toni! Toné! The R&B trio, Tony! Toni! Toné!, preceded the hip-hop/rap movement of the 90s and 2000s.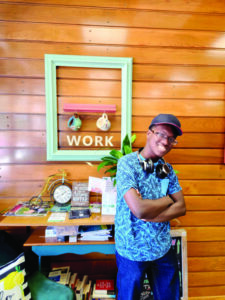 At age one, Comet sang along with the music he heard although he could not comprehend the words' meanings. J. Holiday was a family favorite. His father, also named Charles, introduced him to modern rap artists. His fascination with dance was energized by the young phenomenon Chris Brown, who astonished crowds by using his hat as a prop in his performances. These artists formed the foundation of Comet's musical heritage.
Upon entering the eighth grade, circumstances required that Comet move to Arizona with relatives. Dramatic shifts in lifestyle are not always easily managed, but Comet said this period of his life was an exploration into fresh modes of performance. He joined the choir at church, where he strengthened his voice. 
Now, it is his most impressive asset as an artist. He also joined the school's adaptation of "Frozen" as the villain, Hans. In Arizona, acting, voice and performance joined together, and Comet dedicated more effort to these talents.
Comet emits energy and positivity, so it is no wonder that he found a way to thrive away from home. He returned to Texas after a year and began writing and distributing his own music on various streaming platforms, including DistroKid and YouTube. DistroKid is a music distribution service that helps new artists appear on Spotify, one of the most popular music streaming companies. His current music is available on these major platforms.
When asked why he loves music, he replied rapidly, as if surprised to be posed a question with such an evident answer. "The vibes!" Comet added with a satisfied sigh and closed eyes. "It is all about emotion." 
Whether the feeling is excitement, fear, love or pain, writing a catchy chorus for the occasion is another strength. Take the song "Legends," in which Comet purged his grief for his grandparents' recent deaths: "I wish I had a time machine to bring you back/But that's only in fiction./'Cause y'all wanted to change up the game/And y'all ended up completing your mission." The flow is present and attractive but, most importantly, he is capable of writing lyrics one might want to sing. Hip-hop and rap thrive on a listener base who desire to imitate the artist's verbal acumen.
Recently, Comet discovered an authentic voice by writing honest and, sometimes, moody lyrics. For a time, he found it difficult to share these raw emotions for others to hear. When he wrote two of his best songs, "Let's Be Honest" and "Love Myself," he entered a new stage of personal and creative maturity. He said a weight lifted off his chest upon the completion of these songs. 
In "Let's Be Honest," Comet confessed many of his shortcomings, which most humans share. He sings, "Let's be honest./I don't have the money you have./Let's be honest./I don't have the cars you have./But I'm still gonna grind like I always have." The key to the song's power is its genuine disclosure of his envious thoughts. Comet acknowledges the courage it takes to be honest and overcome fears.
Responding to the questions: "Are people afraid of rap? If so, why?" Comet said, "People take rap too seriously." He added: "It's poetry. Not all artists are thugs. Some are, but not me." 
Rappers who do not flaunt a luxurious lifestyle sometimes think they are risking public failure. Some rappers even falsify a lavish lifestyle by renting mansions to shoot music videos, believing they need it to make it in the music industry. Condemning an entire genre based on the content and lives of some is inconsistent, Comet believes. Clean rap artists, such as NF and Lecrae, boast millions of listeners on Spotify and sold-out shows overseas. Comet hopes to join those ranks.
"Comet Chroniclez 3" is set to release on Sept. 15 on Spotify and YouTube. Comet thinks this is his best work to date. He's hoping to perform regularly at the Fraternal Order of Eagles in Dallas on Mondays. 
Comet may be a rising star, but he acknowledges he could not have achieved what he has so far without his supportive parents, Charles and Jodie, and the strong influence of his late grandparents, Iva and Linda.