By David Mullen
There's a party going on at 30 Rock in Manhattan.
According to online resource MediaPost, the season premiere of "Sunday Night Football" on NBC between the Dallas Cowboys and the Tom Brady-led Tampa Bay Buccaneers was "watched by 25.1 million in preliminary average minute viewers across all linear and digital platforms." That's media jargon meaning that a lot of people were watching the September 11 game on TVs, phones, laptops and tablets.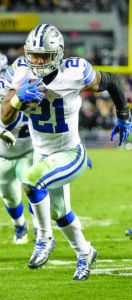 The game marked the best results in seven years for NBCUniversal's "Sunday Night Football" franchise. For 11 years and counting, "SNF" has been the number one rated show on NBC, beating network offerings "Chicago Fire," "Chicago Med" and "Chicago P.D." If the Chicago Bears play on Sunday night, NBC is proud as a peacock.
NBC calls their ratings measurement "Total Audience Delivery" or TAD. For those viewers that hung on to the bitter end of the 19-3 Dallas loss, especially diehard Cowboys fans, their expectations can be measured by "Dreams Already Kaput" or DAK. 
There is no party going on at The Star in Frisco.
Once again, Dallas management, coaches and fans thought this would be the year that the Cowboys broke a 26-year Super Bowl drought. And once again, the season won't be raining playoff wins, and the results were so easy to forecast. The Cowboys faithful just need to get their heads out of the clouds.
Jerry "I am owner of the Dallas Cowboys" Jones is Lucy, and the fans are Charlie Brown. Just as ardent admirers run up to kick a football teed up for a title, Jones pulls it away. 
He tells everyone that he has assembled a coaching staff and players who are Super Bowl quality, and then fans are shocked when he sweeps their hopes aside. No coincidence that a football is full of hot air.  
Jones will turn 80 in October. Charles M. Schultz, who kept his "Peanuts" properties held tightly like Jones holds his Cowboys, would have turned 100 in November. The Cowboys were born in 1960. Charlie Brown was born in 1950. Peanuts properties are worth an estimated $3 billion. Forbes reported that the Dallas Cowboys are worth $7 billion, and that's not peanuts.
As another Cowboys season seems lost, Jones sleeps likes a beagle on his doghouse roof while the Cowboys' faithful are full of grief.
Jones, maybe because of his age, likes familiarity. That's why he signed quarterback Dak Prescott to a contract way beyond his worth. The Cowboys QB is paid $31 million per year no matter how he performs. No ifs, ands or thumbs about it.
Previewing the 2022 season, I warned that entering the year with the porous offensive line Jones assembled could get Prescott "hurt, again." It took until the fourth quarter of game one to be unfortunately prophetic, when Prescott suffered a thumb fracture that will sideline him for up to eight weeks.  
I cautioned fans that the team may not be what they appear to be. Last season, they were 12-5 and had the No. 1 offense in the NFL. But the only playoff team they beat were the Philadelphia Eagles.
Prescott was heading into the season with far less wide receiver firepower with Amari Cooper gone to Cleveland, Michael Gallop (and James Washington) not ready to play and CeeDee Lamb needing to prove his No.1 draft pick status was worthy. Despite 11 targets, Lamb had two catches for 29 yards against a stingy Tampa Bay defense.
Jerry's son Stephen Jones told the Cowboys flagship station 105.3 The Fan that "CeeDee [Lamb] has got to improve and work his way into being the No. 1 receiver. We think he can." 
Stephen is being very blanketed if he thinks backup quarterback Cooper Rush is going to make Lamb look better in Prescott's absence. That sounds like something Linus would say. 
Keeping the mediocre Rush as a backup to the oft-injured Prescott is another task that Jones did not tend to in the offseason. There were plenty of better options available, including Super Bowl quarterback Jimmy Garoppolo (before he resigned late with San Francisco), Mason Rudolph and others.    
As the Cowboys GM, Jones kept head coach Jason Garrett around way too long. Nice guy. Bad coach. And that is why he hangs on to the questionable player motivator and game manager Mike McCarthy. Nice guy. Bad coach. Does he think McCarthy is suddenly going to become football's Tony Robbins or learn the value of clock management?
Brady has never lost to Dallas. He has seven Super Bowl rings, and there are reasons to think an eighth could be in the future. If the Cowboys had won, there would have been cause for optimism. Quality wins help build a Super Bowl team.
Instead, Dallas couldn't even score a touchdown. McCarthy chose to run the ball just 18 times because he panicked when they got down early. Running back Zeke Elliott, with four years remaining on a $90 million contract, is supposed to be a weapon, not a decoy. The Cowboys keep saying how good Elliott looks in practice. Prove it. Play him when it counts.  
Even before Prescott's injury, it was apparent that the 2022 Cowboys — save defensive whiz kid Micah Parsons — were not ready for post season success. Jones overestimated the team's receiver corps, offensive line, long-term health of their quarterback, backup quarterback depth and the ability of their head coach to prepare his team to win big games.     
One game does not a season make. But coming up, during Prescott's recovery, are the AFC Champion Cincinnati Bengals, the Super Bowl Champion Los Angeles Rams and division rivals Washington Commanders and New York Giants. 
On "SNF" on Sunday, Oct. 16, the Cowboys face Philadelphia. NBC and the Eagles can't wait.
Due to poor planning, bad coaching and key injuries, the Dallas Cowboys roster looks like a "Pig Pen," relegated to the comics pages. The Cowboys still have 16 games ahead, but without serious attention to their glaring weaknesses, they run the risk of losing all credibility and becoming cartoonish.