3/4 cup creole seasoning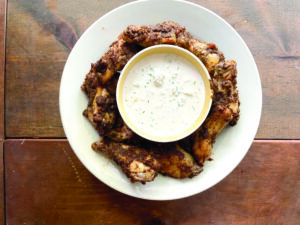 1 stick (8 tablespoons) unsalted butter, melted
About 5 pounds chicken wings, tips removed, cut into drums and flats
Blue Cheese Dip: 
1/2 cup sour cream
1/2 cup mayonnaise
6 ounces crumbled blue cheese
2 tablespoons red wine vinegar
2 tablespoons minced chives
Kosher salt and black pepper to taste
Line a baking sheet with parchment or foil and place a rack on the prepared pan. In a large bowl, whisk together creole seasoning and butter. Add wings and toss to coat. Arrange wings in a single layer on prepared pan. Place in a cold oven and set oven to heat to 275F. Bake for 35 minutes. 
Increase temperature to 475F and bake until crisp, about 30 minutes more. 
Make blue cheese dip. In a small bowl, stir together sour cream and mayonnaise, then stir in blue cheese, vinegar and chives. Season with salt and pepper.
Serve wings hot with blue cheese dip.