By Dan Micciche
Fall is in the air, and District 3 has been celebrating with homecomings, championship victories and, as always, academic innovation and excellence!
Recognizing extraordinary athletes
It has been an incredible month for our District 3 athletes. Congratulations to the Hill Highlanders cross-country team. The boys won the District 2 Championship, while seven runners from the Robert T. Hill Middle School Girls and Boys team made the All-City team. Coach Shelly Thibodaux believed in her team so much that she had the championship shirts made in advance! 
Congratulations also to the Sam Tasby Middle School football team on winning the district championship. I loved coming out and seeing all the community support at the championship meet, as well as Sam Tasby Middle School's exciting homecoming victory and Bryan Adams High School's 46-21 win over R.L. Turner High School.    
Growing teachers and law enforcement officials at Bryan Adams High School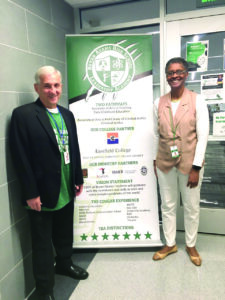 Bryan Adams and our other neighborhood high schools have early college programs that provide students with the opportunity to get a head start on college by earning 60 college credits while in high school to earn an associate degree at no cost to them.
The Bryan Adams program is a partnership with Dallas College's Eastfield Campus. Students can explore a range of careers in Education and Criminal Justice. Under this program, Bryan Adams will be "growing our own" future police officers and our own future teachers.
Exhibiting excellence 
The Texas Association of School Administrators and the Texas Association of School Boards selected Jill Stone Elementary School at Vickery Meadow and Nathaniel Hawthorne Elementary School as projects for the 2022-23 Exhibit of School Architecture.
Stars of Distinction for Excellence were awarded to 34 projects in one or more of the following six areas: design, value, innovation, community, planning and school transformation. Jill Stone was recognized for its design and transformation, thanks to its new building, which was completed with $57.2 million under the 2015 Bond project. 
Highlighting teaching innovation
Congratulations to Patricia Cortez, a bilingual teacher at Casa View Elementary, who was recently featured by the REC Foundation for her work as a Hispanic member of the VEX robotics community. Ms. Cortez is passionate about providing students with the skills and confidence they need to pursue robotics and STEM and to represent their culture and heritage proudly. 
Grieving a loss
All of District 3 is grieving the heartbreaking loss of 8-year-old Kaden Rainwater, who attended S.S. Conner Elementary School. Please keep his family and the Conner community in your thoughts and prayers and join us in a moment of silence.