The students, educators and community members of District 3 are racing to the finish line with excellence and innovation in every step. Join me in recognizing some of their many accomplishments, and remember to cheer on our graduates as they cross the graduation stage.
Celebrating excellence in robotics
For the first time in school history, the Emmett J. Conrad High School RoboChargers have been crowned UIL Robotics State Champions, after competing with 80 of the highest-ranked teams in Texas. Despite an initial tournament record of 8-4, the RoboChargers rallied for a 10-match winning streak to secure their division and continued undefeated in the double-elimination tournament to win it all.
Claiming their place as not only the best in Texas but number five in the world, they then headed to the FIRST Robotics Championship, held April 19-22 in Houston, where they finished second in their division. Congratulations to all the talented students and team members involved! 
Delivering an exceptional education 
Dallas ISD celebrates teaching excellence by recognizing outstanding educators who are making a difference in the lives of students every day. The 2022-2023 districtwide Teacher of the Year finalists include Conrad's Kayleigh Overman-Fassel, who was named a finalist in the secondary school's category.
Conrad Principal Vivian Chandler Fairley was also recognized as a Secondary Principal of the Year finalist. I am so proud of these incredible leaders and role models for their commitment to excellence in District 3.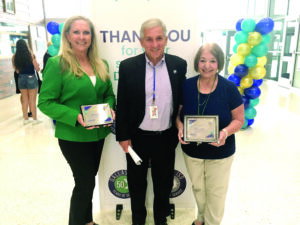 Creating a college culture
Bryan Adams High School Leadership Academy was recently revalidated as an AVID National Demonstration School. The campus is among a small percentage of schools across the nation to be recognized for exemplifying a college-going culture. 
Recognizing years of service
Thousands of team members have called Dallas ISD home for years, even decades, and I am thankful for each and every one of them in District 3. A special thanks goes to those with 35 years or more of service: Marilyn Harris, Donna Helaire, Belinda Triplett, Anthony Cross, Vickie Tillery, Lisa Cano, Rosiland Alexander, Shelly Thibodaux, Beverly Tillmon, Jeannie George, Rosa Temengil, Maria Pedraza, Dana O'Rear, Celestine Williams, Lonnie Beadles, Pamela Wurster, Nancy Wilson and Mary Newsome-Haywood.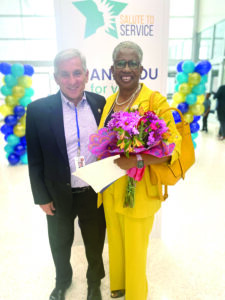 Cheering on District 3 graduates
The 2022-2023 graduation ceremonies are nearly here. Conrad's commencement ceremony will be held Sunday, May 21, at 12:30 p.m., while Bryan Adams' commencement ceremony will be held Saturday, May 27, at                  7 p.m. 
Both events will be hosted in person at Alfred J. Loos and will be streamed live. If you are unable to watch a commencement ceremony live, you can find all of the graduation events on the district's YouTube channel playlist after the live event. I cannot wait to see you there.