By R. H. Lannen
Beverley's has the distinct feel and setting of a classic French Bistro but is cooking up a wide array of American classics. With a fully stocked bar and a concise menu, Beverley's is the perfect place to have a romantic dinner while still casual enough to be one's local drinking hole. Only open in the evening on weekdays, the dinner menu runs the gamut from a diverse selection of seafood to grilled steaks, and a few unique appetizers to round out the options.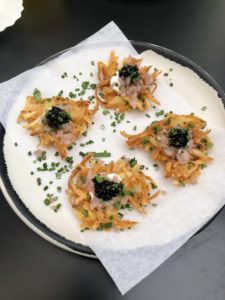 The dry-aged meatballs, a healthy mixture of pork and beef, are tender and juicy. Smothered in house-made tomato sauce and layered on a bed of creamy ricotta cheese, the meatballs make a perfect start to any meal. 
The bone marrow is also a delicious starter to choose. The creamy and flavorful bone marrow filling is topped with a dense onion jam and drizzled with aged balsamic vinegar, making for a particularly rich and robust dish. In vintage fashion, almost every starter comes with a side of white bread toast points to accompany it. 
The caviar and latkes, served from the bar menu, quickly became a personal favorite and the star of the small plates. Crispy, miniature potato latkes are fried to a perfect golden brown, and are topped with traditional caviar accompaniments of pickled shallots and creme fraiche, and finished with a dollop of hackleback sturgeon caviar. All of the appetizers and bar plates are rather small in size for the price, best shared between two people, instead of a group. 
Amidst the selection of main dishes, the chicken schnitzel is one of the most popular options. The chicken breast is fried as perfectly as the latkes and topped with a mushroom and marsala wine pan sauce and paired with a side of dressed arugula. While the chicken itself is tender and juicy, the addition of arugula felt slightly like an afterthought, added to the dish merely for color and to help justify the price. Beyond that, the time-honored steak frites is another safe and delectable choice. The bistro steak, a more affordable cut of beef that is gaining popularity in restaurants lately, is grilled to medium rare and served with thick yet crispy fries and a creamy bearnaise sauce, as well as the ever-present side of dressed arugula. The dish is delicious, albeit slightly dated, seeming as if it was only missing a piece of curly parsley to adorn it. 
Overall, Beverley's is distinctly too overpriced to be an authentic neighborhood bistro, with all main dishes being tagged at well above 20 dollars a plate. However, despite the rather steep pricing, Beverley's offers a great atmosphere with a highly stylized aesthetic and beautiful interior as well as cozy patio seating. 
The bar is well stocked with everything from fine wines by the glass or bottle to refined liquors, serving unique and inventive cocktails until 10 p.m. every evening. Also, the staff is incredibly friendly and knowledgeable about every aspect of the restaurant, making customers feel welcome from the minute they walk in. Beverley's is worth a visit if you are in the Knox-Henderson area if only, at the very least, to sip a delicious glass of wine and enjoy the patio. 
Beverley's
3215 N. Fitzhugh Ave, Dallas, 75204
Monday-Friday 4:30-10 p.m.
Saturday-Sunday 
10 a.m.-10 p.m. 
214-915-8840
beverleysdallas.com