Doctor John Revere Richmond, fondly referred to as "Doc," passed away peacefully in Dallas, Texas the evening of January 5, 2021 after a six-week battle with COVID-19. John was born to Henry Jr. and Irene (Diefenbach) Richmond on Thanksgiving Day, 1949 in Borger, Texas.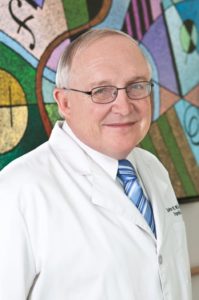 After relocating many times in early life, he graduated in 1968 from Lyons Township High School in La Grange, Ill. He went on to complete his bachelor's in science at Southern Methodist University in 1972. John attended medical school at the University of Illinois College of Medicine Rockford. 
After graduating in 1976, Dr. Richmond started his residency at Memorial Medical Center in Corpus Christi. On the first day of residency, John met Carol Ann Dial, a nurse at Memorial Medical Center, and it was love at first sight for him. 
The two were married November 5, 1977 in Corpus Christi. The couple's six children are Mariah Ann, Sarah Elizabeth, John David, Michael Benjamin, Luke Clifford and Jasmine Leigh. The Richmonds were also active foster parents in both Corpus and Dallas. John and his family moved to Dallas in 1979. He entered private practice at St. Paul Hospital. 
In 1995, Doc began working at UTSW Medical School. He served as one of the cornerstones for the formation and growth of the UTSW Family Practice Residency Program. In 2007, John returned to private practice and was awarded Physician of the Year by the Texas Academy of Family Practice. He was proud to be the Doctor of the Day at the State Capital on multiple occasions. He believed wholeheartedly in being a compassionate frontline healthcare provider. He was among the first to treat AIDS patients, tirelessly fought COVID-19 in the ongoing pandemic, and taught many students to do the same. 
John was a lifelong Boy Scout and lived his life by the Scout oath and law. He served in almost all leadership positions within the Scouts, of note, serving as the Scoutmaster of Troop 835 in North Dallas for nearly a decade. He was an Eagle Scout and led nearly 50 young men towards the pinnacle rank of Eagle, including all three of his sons. Doc was an avid outdoorsman who loved teaching others about camping, hiking, orienteering and astronomy. Before passing he still held Scouting meetings and activities for his grandson's pack and mentored adult leaders for development of successful scouting programs across North Dallas. His scouting career culminated in being awarded the Silver Beaver Award from the Circle Ten Council. Dr. Richmond is preceded in death by his parents, his brother Henry Richmond III, his wife Carol Ann Richmond and oldest grandchild, Mimosa Thomas. He is survived by his six children, 13 grandchildren, and dogs: Brutus and George Michael. The family has chosen to delay a memorial service until later this year for the safety of the many people who wish to pay their respects. The family wants to extend heartfelt thanks and gratitude for the love and support they have received. Donations can be made in Doc's memory to the North Dallas Shared Ministries or Council 10 of the Boy Scouts of America.