By Shari Stern Goldstein
Sometimes it's a head-cleansing reality check to see a simple, not-too-deep, upbeat musical. A couple of witty hours away from 24-7 cable news, TV, radio, newspaper and today's breaking news may be the best we can hope for after a month into 2020. "The Drowsy Chaperone," now running at Firehouse Theatre through Feb. 23, is just that. It is comedy run amok. It's just corny enough to qualify as cheesy. The five-time Tony Award-winning show earned Best Book and Best Original Score nods in 2018.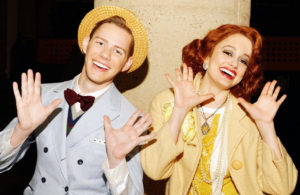 First, the music — imagine a fusion of jazz and traditional Broadway show tunes; Vaudeville and slapstick; stereotypes and off-the-wall, exaggerated types. Set in 1996, "The man in the chair," played with fun by Lon Barrera, narrates the story. He is a nostalgic musical theater buff with a large collection of Broadway scores on LP albums. 
Under a lot of fluff in the story — not particularly coherent — is a wedding. Or a would-be wedding. It's that kind of on-again, off-again, celebration (or not) featured in many of the old classic musicals and movies.
The would-be (or would-not be) bride is played with wide-eyed cheer by Janelle Lutz, who reprises the role from Firehouse Theatre's production five years ago. The triple threat is well known in Dallas theater for her huge vocals in shows like "Judy" at Uptown Players. Lutz has performed many other juicy roles in area theaters. 
A good example of the show's flavor is when a wedding guest takes note, "Remember when 'Gay wedding' meant 'happy wedding?'"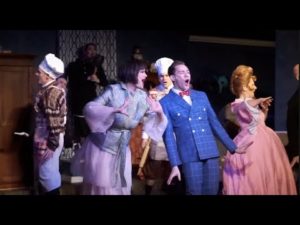 Startling monkeys like those flying in "The Wizard of Oz" do a dance number that is not only creepy but comes out of the blue. The primates are in costumes not unlike the monkey (also creepy) who pops out of Christine Daaé's perpetual music box in "The Phantom of the Opera."
Since this is the Firehouse's second presentation of "The Drowsy Chaperone," director Derek Whitener explained: "Our patrons have been asking us to produce 'The Drowsy Chaperone' again for years. It's the perfect way to open our anniversary season."
Dan Servetnick rocks, or Lindy Hops as it were, in his broad striped suit as Mr. Feldziek. 
Well known to local theater-goers, Servetnick had this to say about the show's director: "Derek Whitener is a Dallas treasure. What he has done with The Firehouse is nothing short of amazing. This show started the theatre on its way five years ago, which is why is it so important to all of us. I don't know that another director could have gathered 75 percent of the original cast to come back to do the show. This is one of my favorite roles. It's not difficult, but the chance to do all those vaudevillians takes is a treat. You're not asked to over-act too many times in your career," Servetnick laughed. 
The artist added: "Every cast becomes a family, it's the nature of theatre. But this was more like a family reunion. Everyone is supportive and loving. It's a joy to come to the theatre for every show. No matter how I'm feeling, this cast cheers me up."