By Shari Goldstein Stern
What will happen when Tony Award-winning Kevin Moriarty runs out of innovative adaptations of Charles Dicken' 1843 classic, "A Christmas Carol?" (CC) He won't. Regular patrons know Moriarty sets a high bar for himself, and look forward to his fresh take every year, like his 2019 production which opened last week at the Dee and Charles Wyly Theatre, presented by the 2017 Regional Theatre Tony Award recipient, Dallas Theater Center (DTC). Once again, Moriarty and the cast, including members of the Diane and Hal Brierley Resident Acting Company, received a heartfelt standing ovation on opening night.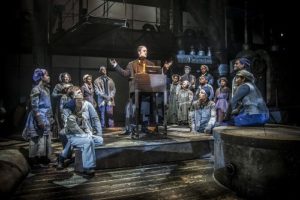 Skillfully playing the "bah-humbug" Ebenezer Scrooge is Brandon Potter, who brought raves for his stalwart performances of Lyndon B. Johnson in DTC's "The Great Society" and "All the Way," in which he took over LBJ's persona seamlessly.
In this year's adaption, Ebenezer is a little on the kinder, gentler side. He's not as vociferous or gruff as the Scrooge to whom we're accustomed, but he's nonetheless miserable and self-absorbed. 
Tiana Kaye Blair will be remembered for her earlier, outstanding performances in DTC's "Twelfth Night," "Sweat" and Jonathan Norton's "penny candy." Now the high-spirited actress is a dark, spooky spirit who rocks the DTC stage in CC. Blair has two roles in the acclaimed play, one being Mrs. Cratchet. 
But Blair's entrance as the Ghost of Christmas Past will likely never be forgotten. Her face is made up like an evil brute with chains holding her back and banging against each other. Children younger than 10 might be scared by Blairs' larger-than-life performance, and it's unlikely they will "get" the story or other characters. Children 10 and older, on the other hand, are likely to enjoy the show, with an advance heads-up about what to expect.
However, to pre-school patron Pia, that ghost wasn't an issue, and her favorite part was "when all the people came out and danced." Pia's older elementary school sister, Dotty, said, "I liked when he [Scrooge] turned nice to everyone and he loved it."
DTC's children's ensemble was well trained. Members of the ensemble include Thomas Baughman and Patrick Bilbow as Tiny Tim; Tallulah Belle Buss and Carrington Black as Martha; McKenzy Dodson and Sabrina Daly as Fan and Ghost of Christmas Future; Benjamin Tanner and Josiah Gamino as Edward; Olivia Meredith and Juliana Gamino as Belinda and Hunger; and Wyatt Hartz and Camden Duyck as Boy Scrooge, Turkey and Poverty. 
Liz Mikel commands the stage in every role she plays, and she doesn't disappoint in two roles as Mrs. Dilber and Mrs. Fezziweg. This adaptation is glistening like a Christmas tree full of traditional carols, some with new arrangements. Of course, Mikel's vocals are their usual "spectacular." The exquisite medley of "Noel" is one you'll be singing on the way home. Mikel's performances in recent shows, including "penny candy" by Jonathan Norton, and in "Sweat" and "Twelfth Night" are some of her most memorable roles. Ace Anderson, also memorable in DTC's "penny candy" and "Twelfth Night" appears as Jacob Marley and Old Joe. 
Additional cast members include Ian Ferguson as Bob Cratchit; Jo-Jo Stein as Belle and Silly Sister; Amber Marie Flores as Lucy and Laundress; Gigi Cervantes as Miss Fezziwig; and KJ Gray as Fezzi Guest and Fred Guest. 
Southern Methodist University students in the play include Neil Redfield as Topper and Undertaker's Man, Aaron Campbell as School Master and Fezzi Guest; Juan Valeriano as Peter Cratchit; and Coda Boyce as Ghost of Christmas Present. 
Once again DTC takes full advantage of the Wyly's flexibility, this time with an "in the round" configuration, where action is on all on all sides. Director Joel Ferrell and Tony Award-winning set designer Beowulf Boritt place the action in Scrooge's realistic factory, with its interesting signage.
Tony Award-winner Jeff Croiter's lighting adds dimension to every scene, as it does with sparkling lights throughout the Wyly. 
With a star combination of Jen Caprio's period costume design, Broken Chord's sound design, an original composition by Aaron Meicht, Valerie Gladstone's wigs, Jeremey Allen Dumont's choreography and Vonda K. Bowling's music direction, this year's "A Christmas Carol" is another lovely tradition for the season. 
"A Christmas Carol" runs through Dec. 29. For tickets, call 214-522-8499.