By Katrina Craycroft
Youth rowers hailing from more than two hundred clubs faced off in 38 events at USRowing's Youth National Championship on June 8-11. The fastest three in each event win medals, but a top 10 finish in any event is extraordinary, and most clubs are pleased to claim one or two each year.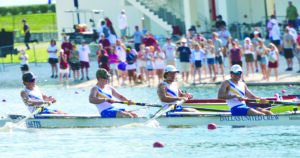 Then, there are the few clubs — the rowing powerhouses — whose name is heard again and again in the grand finals. This year, Dallas United Crew's five Top Ten finishes landed them, for the first time, in that rarified group. Their efforts were rewarded as the DUC girls demonstrated the depth of their program, starting with their youngest athletes, the Under Fifteen (U15) coxed quad. Determined to best their fifth-place ranking in 2022, the crew earned a silver medal. Then, having shown their dominance at the Texas State Championships and Central Regionals, DUC's U17 Girls Eight finished eighth, forecasting a formidable U19 boat in years to come. In the U19 events, graduating seniors Nora Thompson and Kate Russ led DUC's U19 girls to eighth in the Straight Four. 
DUC's U19 Boys Straight Four raced for teammate Logan Betts, who passed away this spring. They placed sixth. Learn more at DallasUnitedCrew.org.