By Shari Goldstein Stern
What's black and white and red all over? A Disney Dalmatian with a red ribbon? Sure. So is that creative Kurt Kleinman's annual "In Living Black and White (B/W) play, with its "surprise" touch of red at every final curtain. This year's "The Dimension of Death!" is playing now at Richardson's Charles W. Eisemann Center (the Eisemann) and continues through January 22.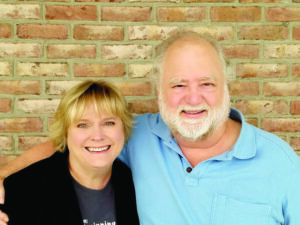 If you have missed out on Kleinman's 35 magical, mysterious, B/W plays, produced by Pegasus Theatre in startling black and white, you really don't want to miss this bizarre one. In this entry into the In Black & White franchise, we find the ensemble cast, led by the usual and unusual trio of Scott Nixon as Harry Hunsacker, Ben Bryant as Nigel Grouse, and Chad Cline as Captain Foster. Having been dispatched to a space lab, the three men encounter a cache of peculiar characters, including a couple of pirates outfitted in knock-out costumes that only costume designer Michael Robinson and The Costume Shoppe can create.
Other-worldly men and female characters with peculiar gaits wear oversized moustaches that wiggle with each word. As annoying as they are to watch, one can only imagine the nuisance the moustaches must be to wear.
In this "Twilight Zone" meets "The Jetsons" play, Hunsacker doesn't spend much time on stage. When he does, he's decked out with satin scarves like royalty, since the space visitors regard him as their king.
The audience will enjoy the most laughs from the character Sam Phillips, "a government official," played tongue-in-cheek by J .R. Bradford. When the dialogue suggests it, Phillips randomly strikes a standard, toothy smile with his hand-waving pose like a politician campaigning into the camera. He's a natural at it, and with Michael Serrecchia's champion direction, the business and its repetition are priceless.
To appreciate the confoundedness of this B/W play, it's useful to know who's holding the pen and who's the boss. Barbara Weinberger, who is co-producer, pre-show speaker and the playwright's biggest fan, is a problem-solver who has worked with Pegasus Theatre for the past 33 years. She says, "I am also the wife, editor and biggest fan of my amazing husband, Kurt Kleinmann, and I look forward to many more years of theatrical adventures together."
Kleinmann is the artistic director, director, playwright and sound designer who founded Pegasus Theatre, and created and trademarked B/W. He is the author of a unique portfolio of plays.
The busy playwright is a member of The Dramatists Guild and Actors Equity Association. He is a co-founder and past president of the Dallas Theatre League. He has received recognition for his work in theatre, including a 1995 Leon Rabin Award for Sound Design on "Hellcab," the 1997 Ken Bryant Vision Award from The 500 Inc. and the 2005 Standing Ovation Award from the Dallas Theatre League.
Born and raised in Dallas, Kleinmann knew at an early age that he wanted to be an actor. The award-winner has a BA in Communications from the University of Texas at Arlington, 1978. According to Weinberger, "UTA did not offer a theatre degree then, so Kurt created his own degree program, preparing himself to run a theatre."
Kleinmann then attended the American Academy of Dramatic Arts in New York City where he wrote "A Trifle Dead," his first full-length play and first "In Living Black and White" script. Kleinmann became part of Fort Worth's Stage West Front Room Company and then, in 1985, he founded Pegasus Theatre in Deep Ellum. The first B/W production, "A Trifle Dead!" opened in 1986.
Weinberger grew up in Wichita, Kan. and Bowling Green. She has a BS in computer science from Bowling Green State University and an MS in organization development and change management from the University of Texas Dallas. Weinberger's career is with Texas Instruments, earlier in information technology and then in human resources. 
The creative team has lived in their East Dallas, M-Street home since 1992. It appears theatre is the couple's number one passion, but their other passion runs it a close second. Since 1994, they have been adopting dogs and cats who need homes. According to Weinberger, the impetus for their menagerie was a 1994 adopt-a-thon at NorthPark, where Buddy, a Corgi-Pomeranian mix, said, "Take me home with you." 
From 2004 to 2007, the family included three dogs and six cats at once. "We currently have two rescue cats," Weinberger reported. The dog and cat whisperers explained, "We've always believed that fate presents you with opportunities that will enrich your life." 
Kleinmann maintains a separate acting career, appearing in numerous movies, plays and commercials as well as starting a voice-over career.
Weinberger began working as a volunteer at Pegasus, where, after a few years as the volunteer coordinator, she became the theatre's first volunteer managing director and eventually its first volunteer executive director. 
Kleinmann retired the role of Harry Hunsacker in 2016 and passed it along to Scott Nixon. That's the same year Barbara retired the role of the Lady in Red to Scott's girlfriend, Stephanie Felton.
The playwright says: "Our plan is to turn over Pegasus Theatre to a new artistic director and executive director within the next 10 years. Right now, our focus is on board development and securing additional funding sources to stabilize Pegasus Theatre's financial future."
For information and ticket sales, visit pegasustheatre.com or call 214-821-6005.