NORTH TEXAS GIVING DAY
By Savannah Espirtu
By the age of three, there is a 30 million-word gap between children from communities with little access to affordable early education, and their peers from more affluent neighborhoods. High-quality early childhood education is vital to a child's social, emotional and academic development, and access to this must not depend on a child's place of birth or their family's socioeconomic status.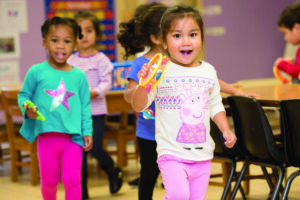 Since 1990, Educational First Steps (EFS) has dedicated itself to transforming low-performing childcare centers in communities with the greatest need across North Texas into nationally accredited, high-quality early learning environments. EFS' signature early childhood education program, Four Steps to Excellence, guides participating centers through an incremental four-step process working towards national accreditation. The program promotes an open dialogue and strong relationship between center directors, teachers and the EFS team. Through mentoring, formal training and enrichment — inside centers and through virtual classes — EFS provides centers with the proven tools and techniques needed to achieve accreditation, at no cost to the educators, families and communities served. 
EFS is proud to partner with more than 100 childcare centers and nearly 50 home-based providers across North Texas. Through the Academy training program, EFS supports hundreds of teachers, center directors and home-based providers each week and reached more than 1,750 during the Annual Early Childhood Conference this past April.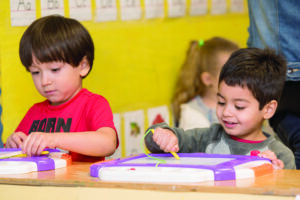 By investing in early childhood education, EFS aims to help close achievement gaps for early learners, break cycles of generational poverty for families, and create a brighter and more equitable tomorrow for the children and communities of North Texas. 
Educational First Steps needs the community's support for its ongoing programs, to accomplish the following:
• Increase the number of children receiving high-quality early childhood education.
• Move partner early learning centers into quality readiness.
• Accept new centers into the quality-building program, placing hundreds more children on the path to quality education.
• Train teachers and center staff to create positive and effective educational environments, mentor teachers to master early education concepts and enable them to further their professional development.
• Continue building quality and effectiveness into early education centers to become neighborhood anchors that serve generations of children and neighborhood families.
EFS hopes everyone will consider giving to Educational First Steps this North Texas Giving Day! On behalf of EFS's partners, staff, board of directors, and of the children impacted by our programs, EFS thanks the community for the support. On Thursday, Sept. 22, support Educational First Steps by going to NorthTexasGivingDay.org and spreading the word. #NTxGivingDay