By R. H. Lannen
Initially started in Austin, local Texas chain Halcyon, located on lower Greenville, has been open for a couple of years but is still as busy as ever.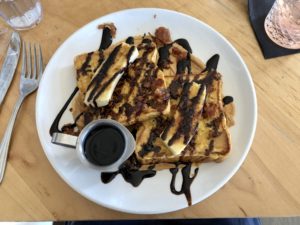 The restaurant is serving up an (almost overwhelmingly) extensive all-day menu from breakfast to dinner and everything in between. Halcyon also offers a full-service coffee and alcohol bar, both of which serve up a large variety of drinks all day long, whether you need a flat white or something stronger like a flight of mimosas. Featuring a rotating local coffee roaster (currently Noble Coyote), Halcyon has managed to keep their local Texas roots despite having four locations across Austin, San Antonio and Dallas. 
After wading through all the options presented at the restaurant, it is clear that their brunch menu shines the brightest. Halcyon devotes a large portion of their brunch menu to different types of eggs Benedict and scrambled egg mixtures deemed skillets. The latter is literally brought to the table in a cast iron skillet, true to its name.
The classic skillet comes loaded with two different types of breakfast meats, pico de gallo and melted cheddar cheese. 
Also served with a side of toast and jam, the dish offers a considerable portion for the price. One favorite, the Southwest Skillet topped with chorizo and sweet potatoes, was delicious, albeit slightly greasy. 
Contrary to the enormous serving size of the skillet, the Big D Benedict, unlike its namesake, was incongruently small but very filling and tasty. 
The Big D is an English muffin topped with cream cheese, salmon, poached egg and, of course, a creamy hollandaise. Very different than its much heavier counterpart, the Old Texas Benedict has chopped brisket and is served on a flaky buttermilk biscuit. 
Beyond that, the menu also offers some standards like pancakes and French toast. Overly decadent, the Elvis French toast is topped with smooth peanut butter, pan-fried bananas and crumbled bacon. It also comes drowned in thick chocolate syrup, making the whole dish saccharine. 
Another staple, the chicken and waffles, were cooked well and tasted delicious but ultimately felt very standard with nothing unique about the preparation. 
The fried chicken breast was crispy and juicy, but the waffle fell flat. It was more reminiscent of a crepe in its lack of thickness and texture. 
The menu at Halcyon is not reinventing the wheel, but the restaurant ticks all the boxes in regard to quality and service. 
The restaurant has a well-stocked kitchen, judging by the number of options available, and the food is always fresh and prepared well. The staff is friendly and accommodating, going so far as to recognize regulars despite the large size of the restaurant and the number of people they serve. 
All in all, Halcyon is delicious and quick, while being casual and comfortable enough to warrant more than one visit. Whether you are looking for a place for a great breakfast or a quick sandwich, or just a venue to get a latte and work on your laptop, Halcyon is an excellent option in the neighborhood. 
Halcyon
7 a.m.-12 a.m. daily
2900 Greenville Ave. 
Dallas, 75206
469-547-2265
halcyoncoffeebar.com