By Chic DiCiccio
If nothing else, "Emma." is the cockiest Jane Austen adaptation of all time, if only for placing that period (not a typo) in its title. Is it a clever way to say this is a period piece or is it staking a claim as the best Austen-based film ever? It's probably a no to both questions, but this "Emma." is a joyous ride that grows better and better with each minute.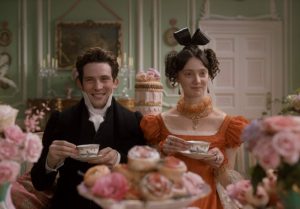 First-time director Autumn de Wilde drops us right into the life of Emma Woodhouse (Anya Taylor-Joy), a handsome, clever and rich (says so on the poster) citizen of the village of Highbury, England. She and her hypochondriac father (Bill Nighy) are attending the wedding of Emma's latest matchmaking triumph, which she fully prides herself in doing. 
It's almost as if Emma chooses to matchmake for others instead of herself as she's waiting for a certain someone …
Look, we all really know where this story goes because who among us has not seen "Clueless"? As he rides up to Emma and her father's massive estate, George Knightley (Johnny Flynn) quickly establishes himself as the only person that can call Emma out on her shallow, self-important ways. Of course, these two are head over heels in love with each other and we know where it's going, but de Wilde and screenwriter Eleanor Catton deliver the tale with life, humor and vibrant scenery, so that the journey stays fresh and fun. 
The main thrust of the plot revolves around Emma's influence on young Harriet Smith (Mia Goth) and her obsession with the mysterious Frank Churchill (Callum Turner). Of course, it all unravels, and Emma's arrogance gets knocked down several pegs, especially when a wash of self-realization falls on her after she publicly insults the sweet Miss Bates (Miranda Hart). 
Catton's screenplay may not have changed much dialogue from Austen's novel, and the actors speak using the highest levels of The Queen's English. 
It initially takes some getting used to, particularly when the characters quickly zing each other in that oh-so-British passive aggressive way. As your ear gets accustomed to the speed of their speech, "Emma." takes off and becomes more enjoyable by the minute. 
It also helps to have such entertaining leads in place, and the entire cast is wonderful. Flynn creates a Mr. Knightley with unrivaled class, Goth is charmingly naive and goofy, and Hart comedically rambles on with hilarious results. Naturally, Bill Nighy does the Bill Nighy Thing and absolutely steals every scene that he's in with nervous stutters, tics and an overall weariness of all things. 
If you want to brag to your pals about being a fan of Anya Taylor-Joy before she became a massive movie star, the time is now. Her screen confidence, timing and overall presence is striking. Austen novels are perfect for a lead actress to showcase their skills, and Taylor-Joy takes this gorgeously written role and runs with it to near perfection. 
"Emma." will probably be long forgotten in a few months, but it is one of the better movies released in 2020 so far. It's much funnier than one would expect, and Austen could almost be credited with inventing the romantic comedy. It's just lovely.