By Shari Goldstein Stern
Telling this story might have been unthinkable in past decades, but it's claiming audiences' attention and reverence across generations today.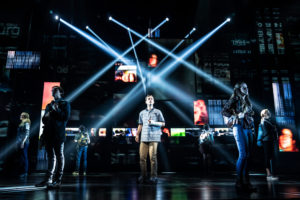 While the intense "Dear Evan Hansen" is a musical with a lovely score, its lyrics support the story of tough, while currently familiar, recognizable, human challenges. "Dear Evan Hansen" delivers audiences to the arduous journey of mental illness, familial dysfunction, single-parenting, anxiety, drugs and the dreaded but prevalent outcome of suicide — in this case teen suicide. Prepare to be moved, speechless and reflective during the show and after you leave the Dallas Summer Musicals (DSM) production, running through Dec. 8. 
Evan Hansen is a high school kid without even one friend. His anxiety disorder renders him unable to do what it takes. It's too much of a risk. When he finally thinks he's made a friend because someone signed his cast, something goes terribly wrong. His new friend commits suicide with an intentional drug overdose, and that's only the beginning of Evan's roller-coaster story. The collateral damage is unimaginable, affecting two families at their core of fear, anger, sadness, guilt and regret. 
Amidst all that, Evan thinks he's getting his chance to fit in for the first time, but his fantasy is woven around one lie that eventually unravels. 
"Dear Evan Hansen" won six 2017 Tony Awards, including Best Musical and the 2018 Grammy Award for Best Musical Theater Album, which was listed on the Billboard 200. 
This 60-city North American tour production has played to sold-out audiences. While in Texas, there will be performances next in Austin and then San Antonio.
With a limited set of the essential sofas and dining tables with chairs, it's the backdrop that tells a story itself. Constant movement of electronic screens in all sizes with changing content and photos comprise the backdrop. The cells, games, tablets and computers with brilliant lighting add interest and pull you in to the electronic world in which we live. 
Stephen Christopher Anthony's performance is flawless as the troubled young man with no connections. When he transformed into the kid another family needed him to be, he did so smoothly, returning to his often-dysfunctional relationship with his single-mother, Heidi, played lovingly by Jessica E. Sherman. She wants desperately to help her adored son, but it takes a long time for him to let her in. Their vocals are emotional and exquisite.
In 2018, the Entertainment Collection Curator of Smithsonian's National Museum, Ryan Lintelman, announced that "Dear Evan Hansen" would be recognized for "opening our eyes to the world around us" with a Smithsonian exhibit. Lintelman compared the musical's achievements to what "Hair" did in the 1960s and "Rent" did in the 1990s. "It has this freshness to it that helps people connect to these issues of social media and the internet, of depression and anxiety, and how you present yourself in a world that's increasingly digital. All of that is wrapped up in this," the curator added. 
"Dear Evan Hansen" runs through Dec. 8 at the Music Hall at Fair Park. For tickets and information, visit dallassummermusicals.org.